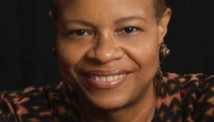 Editor's Note: Terrie M. Williams is the author of "Black Pain: It Just Looks Like We're Not Hurting" and the co-founder of The Stay Strong Foundation. You can follow her on Twitter @terriewilliams.
By Terrie M. Williams, Special to CNN
(CNN) – Another one of our greats has fallen. It was only a week ago that I was moved to put pen to paper about the suicide of Don Cornelius. Now it's Whitney Houston. This was a slow suicide, but a suicide nonetheless. We won't know for weeks whether it was accidental, on purpose or even related to drugs at all.  But it almost doesn't matter, because most of us saw this coming.
Sure, we hoped, prayed, and thought she was going to make it through – that the years of drug and alcohol abuse, the destructive marriage, the waning career, and an increasingly impaired voice weren't going to break our beloved soul princess. We just knew that our unbelievably gifted church girl from Jersey with the noble music pedigree was going to be alright. She was our gift to the global stage. Our Barbra Streisand. We wanted so desperately to believe her when she said in the 2009 Oprah interview that God, her family, a couple of stints in rehab, and divorcing Bobby had helped her make it through the fire and on to the other side. But in May of last year, after a world tour that garnered poor performances and vicious reviews, she voluntarily entered an outpatient program for drug and alcohol treatment. We knew then that everything was not well.
Now we want someone to blame – the enabling entourage, the music industry, the tabloids, and, indeed, Whitney herself. Why would someone with so many riches – model good looks, a voice from the heavens that made her millions, a beautiful daughter, and a loving family throw it all away just to get high? Was her constitution that weak? Why couldn't she just snap out it? We'd seen so many other talented entertainers, like Samuel L. Jackson and Mary J. Blige, battle their demons and, seemingly, win.
I asked psychotherapist friend, Mary Pender Greene, her thoughts on Whitney's inability to overcome her struggles even though she clearly had a strong faith in God, a loving family, and, in fact, she did seek treatment. She said, "It is clear in the end that she could not, had not repaired her damaged self, reconciled her feelings toward her failed relationship, confronted her dependency issues, or accepted that her voice had suffered. It also appears that being involved in an unhealthy relationship helped to cause her to lose her sense of self, her personal power and her footing, all of which helped to further weaken her self-esteem."
As one who has been there and is still there, I second that emotion. The relationship we have with ourselves is the most important one we will ever have. If it is strong, it can help buffer you from the outside influences and the kind of pressure that caused Whitney to fall. Personal pain obviously caused Whitney to be her own worst enemy. I strongly believe that a consistent relationship with a therapist would have allowed her to have a different ending.
At some point all of us may encounter that one thing, person or event that breaks us into separate pieces; and the life we built or least portrayed can't keep going without the other part being self-medicated. That self-medication can come in the form of drugs (illegal or prescription) or alcohol. It can be engaging in inappropriate relationships, risky sexual behavior, overeating, gambling, working, and violence. These are all symptoms, that, yes, need to be treated, but don't get at the heart of the problem – undiagnosed and untreated depression. It is the devil that gets a hold of your soul and your spirit and proceeds to wreak havoc on you, the victim. And those of us whose loved ones are going through this are often at a loss about what to do either because we don't know, want to respect that person's privacy, or because we are eating off of that person's wellness and look the other way. Yes, a strong belief in God can save you. But for some of us, God can only save a piece and we need to do more than pray.
In a recent interview with Esquire magazine, long-time friend Robyn Crawford commented that "[Whitney] shared the fruits, and she changed a lot of lives. The record company, the band members, her family, her friends, me — she fed everybody. Deep down inside that's what made her tired."
And so, Whitney continued to wear the mask - that façade of wellness under extreme pressure that allowed her to keep giving to the world, but not enough to herself. It caused her journey to end much too soon. It has left a daughter without her mother, a mother without her child, and the world without an amazing talent. I would argue that it didn't have to be and I can't help but wonder: who is next? How many more have to fall before we begin to really address our own pain and our collective communities' pain in healthy ways?
I treasure my weekly talk therapy sessions-they are my lifeline. It is an opportunity for me to speak my pain, my struggles, my gains and losses with a professional who is trained to hear what my family and friends and can't. I have learned to let the tears flow, to slow down, to seek professional help and to look for healthy ways to put my pieces back together – through exercise, proper nutrition, planned downtime– and by surrounding myself with people not afraid to pull my coattails when they see something is wrong.
Noted author Asha Bandele, recently and profoundly said, "But even as we know, too often we don't ask why. We don't pull that person close; settle in for long night's journey back into day. It doesn't have to be this way. We don't have to suffer by ourselves and we don't have to sit by feeling helpless perhaps, whispering... wondering but never really walking into full engagement with that person who we so love and would be devastated to lose."
I leave you with one of my favorite verses from the famed Paul Lawrence Dunbar poem, We Wear the Mask. It is the last verse and it is cautionary.
We smile, but, O great Christ, our cries
To thee from tortured souls arise.
We sing, but oh the clay is vile
Beneath our feet, and long the mile;
But let the world dream otherwise,
We wear the mask.
Opinions expressed in this commentary are solely those of Terrie M. Williams.