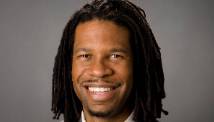 Editor's note: LZ Granderson, who writes a weekly column for CNN.com, was named journalist of the year by the National Lesbian and Gay Journalists Association and a 2011 Online Journalism Award finalist. He is a senior writer and columnist for ESPN the Magazine and ESPN.com and the 2009 winner of the Gay and Lesbian Alliance Against Defamation award for online journalism. Watch him on Tuesdays on CNN Newsroom, 9 am ET hour.
By LZ Granderson, CNN Contributor
Grand Rapids, Michigan (CNN) - In case you plan to see Wednesday's GOP debate, allow me to offer up some crib notes so you don't get lost.
First, when you hear the candidates talk about "job creators," that's just another way of saying "rich people" or "the guy bankrolling my super Pac."
When someone says "family values," that's to remind the audience that they don't like gay people; "religious freedom" means "Christianity"; and it's not really a GOP debate until a candidate attacks the "liberal media" for asking questions they're too afraid to answer.
Now there will be plenty of other buzz words and euphemisms that will be tossed around during the debate, but since it is being held in Arizona, chances are the most popular phrase will be "secure the border."
We must secure the border.