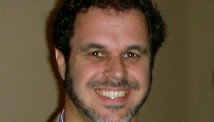 Editors Note: David M. Hall, Ph.D., is he author of the book "Allies at Work: Creating a Lesbian, Gay, Bisexual, and Transgender Inclusive Work Environment." He is also the author of "BullyShield," an iPhone and Droid app. Hall teaches high school students as well as graduate courses on LGBT issues and bullying prevention. His website is www.davidmhall.com and he is on twitter @drdavidmhall.
By David M. Hall, Special to CNN
(CNN) - The Valentine's Day episode of "Glee" introduced the God Squad's Joe Hart, a student who is a committed Christian. His only tattoos are bible quotes, and each of his dreadlocks is named after a bible verse. Joe wants to make Christianity cool, so the God Squad, a Christian club, agrees to sing "vocal valentines" for any student who dedicates a song.
When the God Squad sings to Rachel, an irate Santana - who was already angry with her principal because of his double-standard regarding public displays of affection between gay couples - asks if they are Christian. When they say yes, the cheerleader tells them she wants to send a "vocal valentine" to her girlfriend: "And I don't mean my friend who's a girl. I mean my girlfriend girlfriend. How's that sound?"
Joe Hart appears dumfounded. He later explains to the rest of the God Squad that he never met anyone who was gay.
Toward the end of the episode, Santana and Brittany, her girlfriend, are sitting together at a Valentine's Day party. The God Squad and Joe approach them about Santana's request. "After thinking and praying about it," he tells them, "I knew there was only one answer: absolutely. Love is love, man. So here's for Brittany from Santana."
God Squad breaks into a mash-up of "Cherish," the oldie, and Madonna's version: "You don't know how many times I wish that I had told you. You don't know how many times I wish that I could hold you.... Cherish is the word I use to remind me of, your love." Santana and Brittany start the song lovingly holding hands and end the song with a kiss on the dance floor to the applause of their peers.
In the following episode a gay teenager attempts suicide, and Joe invites Kurt, one of the show's out and proud characters, to pray with the God Squad. Kurt, who questions God, joins them in prayer.
The storyline on "Glee" captures something larger that we are seeing with a new generation of allies (allies are people who support LGBT rights but aren't LGBT themselves). When I wrote "Allies at Work" in 2009, every ally I interviewed also supported LGBT pride. Today, we are encountering a different type of ally: one who supports LGBT people because they believe it's the Christian thing to do. So they are supportive of gays, lesbians, bisexuals, and transgender people though they may be conflicted over how they feel about "gay pride."
Maggie Brennan is an 18 year-old high school senior at Central Bucks West High School in suburban Philadelphia. Brennan, a Christian, explains, "I wasn't raised so much anti-gay marriage as I was pro-heterosexual marriage." Just one year ago, Maggie did not have any important, openly gay people in her life, so she hadn't carefully considered LGBT rights. However, she knew that God was loving. Last summer, a gay counselor at a writing camp had a powerful impact on her. Maggie became accepting of those who are LGBT.
I work with Fortune 500 companies across America on developing strong allies' programs, and more and more I'm seeing young, Christian professionals join the LGBT groups as allies. However, that often comes with their own conflict. A young woman who recently graduated from college explained to me that she actively worked to make her workplace more LGBT inclusive. Assuming that she was an ally, she was invited to march in the pride parade. She felt uncomfortable and declined. "I want to be an ally, but I am also a Christian," she explained to me privately. She believes that Jesus doesn't want people to be gay but that he also wants a workplace where everyone is treated equally.
These are the faces of Christians championing LGBT equality among the younger generation today.
The faces of allies are changing, expanding. This new generation of allies have more diversity in views than many might expect. So what does that mean for American society?
When we reach out to allies, we have traditionally sought the most obvious person or people. However, if we are casting a wider net, we need to include allies more strategically. For example, a ban on same-sex marriage is on the ballot in Minnesota. We should be looking for Christian allies who support marriage equality. We need to remind ourselves that the Christian community is just as diverse as any other.
A similar strategy should be employed in the 33 states where it is legal to fire someone based on their sexual orientation, gender identity, or both. In fact, we may find many Christian allies who oppose marriage equality but support workplace equality. Many LGBT advocates are working for non-discrimination laws and such advocacy may provide an ideal collaboration with some of our religious conservative allies.
Maggie Brennan, the high school senior, explains that controversy surrounding LGBT equality "is a challenge that man and woman have built for themselves... I think it is a trial of human tolerance. Right now we're failing a little bit. To overcome that prejudice would truly be God's work."
There are still LGBT youth who are mercilessly bullied, are thrown out of their homes, and commit suicide. At the same time, "Glee" has captured something changing among the younger generations. It is wise for adults to follow their lead. Of course there will sometimes be limits to our areas of agreement. However, there is more common ground than was found in generations past. Finding that common ground is something that we owe to those who are lesbian, gay, bisexual, and transgender. We also owe that to religious conservatives. It is a responsibility demanded of a pluralistic society, and it is Maggie Brennan, a Christian high school senior from suburban Philadelphia, who has reminded us that "we're failing a little bit."
The opinions expressed in this commentary are solely those of David M. Hall.