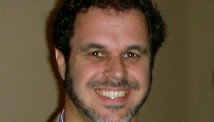 Editors Note: David M. Hall, Ph.D., is he author of the book "Allies at Work: Creating a Lesbian, Gay, Bisexual, and Transgender Inclusive Work Environment." He is also the author of "BullyShield," an iPhone and Droid app. Hall teaches high school students as well as graduate courses on LGBT issues and bullying prevention. His website is www.davidmhall.com and he is on twitter @drdavidmhall.
By David M. Hall, Special to CNN
(CNN) - The Valentine's Day episode of "Glee" introduced the God Squad's Joe Hart, a student who is a committed Christian. His only tattoos are bible quotes, and each of his dreadlocks is named after a bible verse. Joe wants to make Christianity cool, so the God Squad, a Christian club, agrees to sing "vocal valentines" for any student who dedicates a song.
When the God Squad sings to Rachel, an irate Santana - who was already angry with her principal because of his double-standard regarding public displays of affection between gay couples - asks if they are Christian. When they say yes, the cheerleader tells them she wants to send a "vocal valentine" to her girlfriend: "And I don't mean my friend who's a girl. I mean my girlfriend girlfriend. How's that sound?"
Joe Hart appears dumfounded. He later explains to the rest of the God Squad that he never met anyone who was gay.