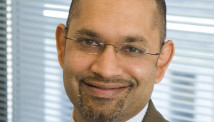 Editor's note: Ali Noorani is executive director of the National Immigration Forum Action Fund, an organization based in Washington that advocates for the value of immigrants and immigration to the nation. Follow him on Twitter: @anoorani.
By Ali Noorani, Special to CNN
(CNN) - If you think all conservatives support a deportation-only approach to immigration, think again. Last week, hundreds of conservative evangelicals gathered in Alabama to engage in a reasonable, respectful discourse on immigration.
You read that right. Less than a year after Alabama enacted the strictest immigration law in the land, evangelical students, pastors and national faith leaders gathered at Samford University in Birmingham for "a Christ-centered conversation on immigration" called the G92 South Immigration Conference.
Following the example of Cedarville University's inaugural G92 gathering last fall in Ohio, evangelical Christians gathered in Birmingham to discuss immigration through the prism of the Bible. Instead of listening to partisan sound bites, participants looked to the word of God - specifically the 92 references to "ger," the word for "stranger," in the Old Testament alone.