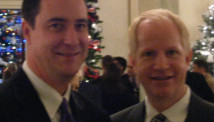 Editor's Note: Daniel Gri and James Abbott have been a couple for more than 15 years. They had a religious commitment ceremony in 1999, and were legally married in California in 2008.  They are raising two sons, aged 14 and 12, in Virginia.
By Daniel Gri and James Abbott, Special to CNN
Our family lives in a state where our existence is about to be denied.
We certainly know who we are.  We are a loving couple raising two children. We are people of  faith. We are involved actively in conservative political causes.  And there's no denying that friends, neighbors and even complete strangers can see who we are.  Like us or not, we're two gay, middle-aged, white dads raising two adopted children who needed homes: one bi-racial teen and one black pre-teen.
But Virginia is now prepared to ignore us – and hundreds of loving couples like us who could provide loving and stable homes to thousands of unwanted children who are in need of homes, too.
In a few days, our state is expected to become only the second in the nation (North Dakota is the first) that will allow state-funded adoption agencies to deny us, and other qualified parents, the ability to foster or adopt children solely because of our sexual orientation.
Supporters of the bill call it the "conscience clause," but what it does is unconscionable. It allows private adoption agencies, many who contract with the state to place children in adoptive or foster homes, to deny prospective parents because of their sexual orientation.  The bill passed the state Senate last week, but has not yet been signed into law by the Governor.
How did our family get to this place - a state were a group of 140 men and women pass a bill that says it's OK to ignore or deny the existence of our family?
Well we, along with our two children 14-year old Caleb and 12-year old Alfred, moved to Oakton,Virginia from California in 2004.  We loved the bucolic beauty of the area, the great schools and the sense of community we instantly felt from our neighbors and the people at our church.
Our family fully understood the legal limitations we would encounter as a gay couple in Virginia, even before this adoption measure was proposed.  In California, we were legally married. Here, the law does not respect the sanctity or reality of our marriage.  In California, we were welcomed and encouraged to become adoptive parents by the foster care system.  Here, since the state doesn't recognize our marriage, and marriage is required to adopt children as a couple, we would have been prohibited from adopting our two beautiful sons.
But now the legislation has passed and if signed into law, as expected, it will explicitly deny the fact that we, and thousands of other qualified people, are already good parents and can be good parents to other children in need.
How can they deny the reality of our family?
More importantly, how can Virginia deny the 1,300 foster children waiting for adoption?   How can they deny them good homes based on some social worker's vague moral or religious objection?  What about our religious beliefs?
We did not choose to be gay. When each of us realized we were gay, we both asked God why. We believe gay people are made for good reasons. One reason is to help take care of all the children from straight people who are not ready to be parents.
We did not adopt our sons to make a political statement.  We adopted our sons because we had a stable home and could provide a circle of boundless love to children who, because of their age and race, in all likelihood would not have been adopted.  Our sons were 3 years old when they entered our lives.  Statistics demonstrate that that the older a child gets, the less likely they are to be adopted. Without our act of love, it is possible that these beautiful, active boys would be living in foster care or group homes.
Instead, today our sons are honor students in their respective Fairfax County schools. They play football, baseball, and sing in our church's choir.  In January, they had the opportunity to ski in Stowe,Vermont and have travelled to Eastern Europe, Italy, Panama and Mexico.  Last summer we visited historic sites in New England on our way to a quiet week in a cabin on an island off the coast of Maine.
Most importantly our sons are loved, supported and encouraged.  We look into the eyes of our boys, soon to be young men, and realize that if they were part of the Virginia foster care system, they would have been denied a home with us – their dads.  And we – all four of us together– would have been denied the opportunity to become the loving, nurturing family that we are.
The opinions expressed are solely those of Daniel Gri and James Abbott.