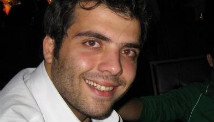 Editor's note: Ahed Al Hendi is a dissident who fled his native Syria after being  imprisoned and tortured by Syrian authorities for establishing a secular student organization that was against the regime. He is now the Arabic Programs Coordinator at CyberDissidents.org, a New York-based human rights organization that highlights the voices of pro-democracy bloggers in the Middle East.
By Ahed Al Hendi, Special to CNN
(CNN) - I am a 27-year-old Syrian-American who came to the United States as a refugee.
In January 2009, I stood at the John F. Kennedy international airport in New York staring at a giant American flag.
As I examined each stripe, I thought of the long path I had traveled over the past two years to escape the tyranny of in Syrian president Bashar al-Assad.
Bashar al-Assad: Syria's unintended president
I said to myself that everything has an end, and in my case, a happy ending.
I told myself that Syria would never change so I should forget about it.
I was jailed and persecuted for my political views and I was tempted to just be an American and leave it all behind.
But I could not.
And the current unrest reminds me why all Americans must not forget Syria.
I was jailed for more than a month in Syria.
Those first couple of weeks, I was resigned to solitary confinement. My head brushed the ceiling of a small cold cell where I could not fully extend both arms. I slept naked, on a cement-like floor -in December–not far from the hole that served as a toilet.
I recall being handcuffed, blindfolded, punched, and slapped.
I heard the screams of other prisoners as they were tortured.
Plus, there was the psychological torture - they told me I would stay there for two years, and did not tell me where I was or how much time had passed.
Then, jail conditions were very, very bad.
Now, I hear prisoners are being killed.
Syrians need safe zones for refugees; injured people need medical help, and all defectors need support for their acts of courage.
I still have friends and family there.
Before the Syria uprising, the only concern my group and I had, as DC-based activists, was to raise awareness about the human rights abuses in our homeland.
Syrian expats uniting for common cause
We sought to remind the world that Syrians were languishing in prison for their beliefs.
It did not require more than a computer and internet connection to inform the world of their plight. From time to time, we filled out forms with local police and organized protests at the Syrian embassy. (I was always inspired how easy it was to hold a protest here. )
Now, our task has changed. We are making sure that American media and policy-makers know the truth about the Syrian regime and possible options to help the Syrian people.
Despite pronouncements by the United Nations Human Rights Coucil, our mission remains hard. No one seems interested in helping the Syrian people.
Thousands are being killed, but the world does little more than talk.
Why the world isn't intervening in Syria
I am constantly haunted by the contrast of Syrian repression and American freedom.
America is individual freedom, democracy and justice, but Syrians are not being supported by Americans.
Living in the United States has made me desire the same freedoms for Syria even more.
The uprising is still fresh in Syria.
My hope is that the Syrian people get the help they need.
The opinions expressed are solely those of Ahed Al Hendi.