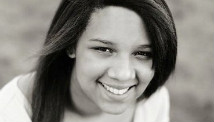 Editor's note: Teddi Noel Mattox is a 15-year-old freshman at Montclair High School in New Jersey. She's a writer, singer/songwriter, rower on the crew team and Nutella addict. She hopes to travel the world and help those in need.
By Teddi Noel Mattox, Special to CNN
(CNN) - Growing up in this generation, I've seen more than my fair share of trends, some stupid, some dangerous, and a lot just plain weird.
In a world where teens like me hear many messages encouraging us to be ourselves, it always confuses me when the same people spreading those messages turn around and ask us to do "what's in" or "what's hot" at the moment.
Unfortunately, what's "in" at the moment is something a lot of girls my age are doing, posting "Hot or not?" videos on YouTube. The whole premise of this is to post a video of yourself and ask viewers if they find you attractive.
Even though some comments are really encouraging and sweet, quite a few are not. As a teen, I know full well this may not even have much to do with how a teen looks. Some people post offensive comments on YouTube because they can. This is just one of the many disturbing problems with this trend.