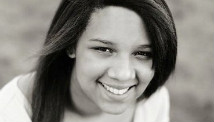 Editor's note: Teddi Noel Mattox is a 15-year-old freshman at Montclair High School in New Jersey. She's a writer, singer/songwriter, rower on the crew team and Nutella addict. She hopes to travel the world and help those in need.
By Teddi Noel Mattox, Special to CNN
(CNN) - Growing up in this generation, I've seen more than my fair share of trends, some stupid, some dangerous, and a lot just plain weird.
In a world where teens like me hear many messages encouraging us to be ourselves, it always confuses me when the same people spreading those messages turn around and ask us to do "what's in" or "what's hot" at the moment.
Unfortunately, what's "in" at the moment is something a lot of girls my age are doing, posting "Hot or not?" videos on YouTube. The whole premise of this is to post a video of yourself and ask viewers if they find you attractive.
Even though some comments are really encouraging and sweet, quite a few are not. As a teen, I know full well this may not even have much to do with how a teen looks. Some people post offensive comments on YouTube because they can. This is just one of the many disturbing problems with this trend.
As the "Hot or not?" videos get really popular and the answers get more diverse, it's easy to get distracted and let the negativity get to you. Especially with girls, we can look at 100 good comments and if there is one particularly nasty one, that's the only one that stays in our heads. We hear so much from adults about how fragile our self-esteem is - and sometimes we hear it so much it can get annoying - but in reality, it's very true.
I have never posted a video asking people if I was attractive because I know that one negative comment has the chance of ruining a very good day. Teenage girls are just at a really confusing and awkward part of our lives where we are trying to figure out what we want to do, who we are and where we can fit in. To hear people online calling you "ugly" or "fat," anything that could make us feel worse about ourselves really damages us.
When I was in eighth grade, a lot of my friends were getting Formspring accounts. Formspring is another form of social media in which people can anonymously write what they really think about each other. Some of my friends got wrapped up in this and many mean things were said, which led to a lot of drama.  I wanted a Formspring account too, mainly because my friends were all getting them, but also because I wanted to know what people really thought of me.
My mother researched it and told me that I would not be getting an account anytime in the near future. I eventually let it go, and while some of my friends still have their accounts, I really do think it was a passing trend. That doesn't erase the damage that was done by the hurtful comments a person could've posted. We may not even realize how much it can damage us until one day we try to be confident and the mental image of one of those comments pops into our minds.
I can actually remember every offensive thing a person has said to me throughout the course of my life. I try not to hold a grudge, but when someone you care about, or even someone you don't know, says something that hurts your feelings, it takes most people a lot more than a few days or even months to get over those comments.
It's been my New Year's resolution to be a bit more positive this year, so I'm going to go out on a limb here and try to find some good in this trend. When people are faced with challenges, they have two choices. They can either let it define them or overcome those challenges and become stronger. If a person is going through a difficult time because of negative comments, it's often in those times that people find out who their true friends are.
What these girls posting videos on YouTube need to know is that the people posting comments have never met them, and therefore haven't even gotten a chance to know how beautiful they really are. So, they shouldn't let these people get into their heads.
But before completely shunning this new trend, it is important to understand why it is important to many girls my age to seek out compliments and approval. We really do need more positive messages.
If everyone felt beautiful from the inside out, this trend wouldn't even be happening. So to girls everywhere reading this, take it from someone who had to go through a lot emotionally: You are beautiful, no matter what size, shape, or color you are. Love yourself for you, embrace your individuality and own it.
The opinions expressed in this commentary are solely those of Teddi Noel Mattox.