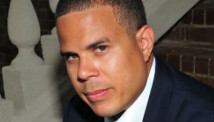 Editor's note: Andrew "Bo" Young III is the Chief Executive Officer of GiveLocally.net. He lives in Atlanta, Georgia, with his wife and two children.
By Bo Young, Special to CNN
(CNN) - As the only son of living civil rights legend Andrew Young, I feel a deep obligation, based on my families' history of struggle and achievement, to make a difference.
In the years since I have become a man - and as my father's hectic life slowed down - I have had the privilege of hearing directly from him what it was like to be a close confidante to Martin Luther King Jr. I've learned how, together, they faced the incredible task of trying to gain equality for all, even in the face of legal and societal obstacles that threatened to - and did - end King's legacy of non-violence with his murder.
Behind the scenes: 'Eyewitness to Murder: The King Assassination'
King's assassination did not stop his work for change. I am extremely lucky that my father, Ambassador Andrew Young, is still living. He is not just my father and now grandfather to my children; he was a direct participant in one of the most historic chapters in our nation's history.
I confess that even for me, the stories of what my father and those around him faced during the civil rights movement are hard to put into context based on all of the opportunities I - and so many other Americans – have enjoyed as a result of the challenges they overcame.
But I believe that our African-American forefathers would - and do - expect their progeny to seek innovative solutions and apply novel thinking age-old problems like poverty.
We have to build on that legacy; how do we create beyond it?
What worked in 1964 can and should be optimized in 2012.
Feeding the hungry, healing the sick and clothing the naked have always been the basic principles of our society.
Creating jobs, increasing the quality of life and improving education are the paths to increased opportunity, but now more than ever, we need proverbial "out of the box" thinking to help us navigate these difficult roads.
Political and civic leadership are important but they should not be the only ones driving the policymaking and direction of our community today.
I think we should be looking for new leaders and innovative thinkers in all areas: sports, business, academia, entertainment.
Now, I am trying to lead and create in a different way. The change I want to make is via business. I serve as the chief executive officer of GiveLocally.net, a social giving platform that allows givers to choose pre-screened recipients whom they want to assist in their local communities.
I know that at least one legend of the civil rights movement is proud of me - my hero, my father.
The opinions expressed in this commentary are solely those of Andrew Young III.