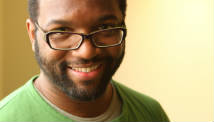 Editor's note: Baratunde Thurston is a comedian, writer, co-founder of the black political blog, Jack and Jill Politics and director of digital for The Onion. His first book, "How To Be Black," was published this month by Harper Collins.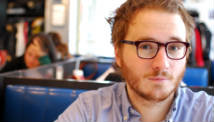 Christian Lander is the creator of the popular blog, Stuff White People Like and the author of two best-selling books, "Stuff White People Like: A Definitive Guide to the Unique Taste of Millions" and "Whiter Shade of Pale."
By Sarah Edwards, CNN
(CNN) - Though the title might fool you, Baratunde Thurston's new book "How To Be Black" is not a do-it-yourself guide.  It is instead a memoir which illustrates Thurston's sometimes funny and sometimes tragic life story.  Through a mix of personal narrative, humor and satire, Thurston allows the reader to think about–and laugh about–race in a safe, non-judgmental space.
Christian Lander, Baratunde's friend, is a Canadian-born writer and satirist whose experience and upbringing may not parallel Thurston's, the inner-city D.C. kid who graduated from Harvard; but it is clear that their brands of irreverent humor and frank discourse are what they share. When Lander, who was interviewed in Thurston's book, got together with Thurston for CNN In America to chat about "How To Be Black," the result was a freewheeling discussion on race fatigue, Norbit and 21st Century Blackness.
Lander: First question, most important question, can I touch your hair?
Thurston: You know with you, maybe, because I feel like we've got a bit of a relationship . . .
Lander: Well I'm asking because it comes up in the book. It seems from the White perspective that this is an innocuous question. When I say it, when you hear it, why is it not so innocent?
Thurston: There's this history of Black people being treated as objects or maybe property and the hair thing is like this weird vestige of that so it makes a lot of Black people uncomfortable, probably not all Black people but let's say all the Black people I've ever met. There are ways to get to understanding without physically grabbing for the thing you don't understand.
Lander: The first thing, I picked up "How to be Black" and I thought, "Fantastic! Finally this is going to be the book for me. I'm finally going to become Black." But then on page one, you make it quite clear that this book is not a guide for other races on how to become Black. In order to get the maximum results from this book, is it strongly advised to be Black before you read it?
Thurston: It depends on what your goals are. If your goal is to actually change your race a la "Black Like Me," reading the book alone won't do that. This isn't "The Fly." You can't just step into a machine and come out as another thing but you can come out with a different perspective and hopefully a little more insight a little broader set of understanding and be amused all at the same time.
Lander: Very elegant to point out "Black Like Me" instead of the C. Thomas Howell film "Soul Man" which is considered to be a more serious investigation. So the book is not going to turn me Black, but if I buy this book, what guilt do I get released from? Can you absolve me of a historical wrong?
Thurston: You know for whatever part you or your people played in approving the movie "Norbit," you can be absolved of that at the end of reading this book.
Lander: What do you want Black people to learn from this book?
Thurston: There are black people who don't quite see themselves in the images of Blackness that are out there. This book should be able to reach out to some Black people and say, "Hey somebody has a weirdo Black experience like yours, which isn't that weirdo." It just hasn't been marketed, popularized and sold to convince everyone that this is "the" way to be who you are. By sharing my story and tapping into a few other people's, I hope Black folk can see a bit of themselves in a way they haven't or don't often see themselves in the media.
Lander: What's great about it is it's a good mix of personal history and satire. What would you want White people to learn from this book?
Thurston: There are a lot of lessons in the book for all kinds of people not just the Black/White. It's really for everybody. I hope this book can–without putting people on the defensive immediately–drag them into a space where you can start to see the world through a different perspective. There is a way to connect this experience to your own identity experiences that can help close the gap a little bit and not be so black or white.
Lander: When you talk about the Black experience being sort of fragmented how do you see it changing?
Thurston: I think one of the experiences that has been consistent about the Black experience in America is there's been a popular view of what Blackness is and it's kind of been imposed in a top down manner because of the way media is structured. We had this spike when there was like "Cosby" and "A Different World" and all this stuff, and then BET came out and then there was like this screech and the industry was like, 'Yeah we've kind of done the Black thing. Let's try not doing that.'
Now you've got YouTube. So you have Elon doing "This Week in Blackness", Issa Rae doing "Awkward Black Girl", "Sh*t White Girls Say To Black Girls", DeShawn Raw–he's got the "Rap Parody" video series. It's so intelligent, it's so funny, it's so well produced and it didn't require the permission of gatekeepers either in the mainstream or white media community or within the power brokers within the Black community. When I look at 21st Century Blackness and identity that's the most exciting thing: the ability to put more of your authentic self out there and change the expectation of who you're supposed to be.
Lander: When you were talking you reminded me that I wanted to go to "Hillman College."
Thurston: When did you realize it wasn't an actual college?
Lander: Like 9th Grade. I was in Canada and I didn't really know what was going on down there.
Lander: Your story is amazing, you grew up in a tough neighborhood in Washington, D.C. with this amazing, strong mother, a very white protestant school and then Harvard and you've done all these amazing things. What I couldn't stop thinking about is how people would say your success proves the system works and that there is no need for change. What would you say to that?
Thurston: I think I'm an exception demographically. I came out of D.C. at a time in the mid-90's when 40% of black males in my age band, 16-30 something like that were guaranteed to be involved in the criminal justice system.
Even as I look at what contributed to so much of my success it was a great home, it was a lot of community organizations. There's a program in D.C. called the Higher Achievement program, I did the Boy Scouts, I did Youth Orchestra program, theater, things that gave me options. The world we're living in right now those opportunities that I had even in somewhat difficult economic times are shrinking so much further. The solution is not the Gene Marks solution from that Forbes column: just use technology and learn how to read and study hard. It's not enough to just say this one dude did something incredible look at his story you do the same thing and not provide a little bit more structural understanding and support for multitudes to do that same thing and not just be the next exception.
Lander: I'll give you an easy one here. I know there's no easy fix for racism, but could you give me an easy fix for racism please?
Thurston: Um, yeah. Kamau Bell who's one of the seven people I interviewed in the book he's a comedian out of the Bay Area he had a solution which was everybody fight on the side of the group that's one over from you. So if you are an immigrant fighting for immigrant rights, stop that. You're fighting for gay rights now. If you're gay fighting for gay rights, you've got to fight for women's rights. If you're a woman, you've got to fight for immigrant rights… and the ability to empathize would be greatly deepened and you would be able to see the situation differently and find the connections and commonalities. I'd love to take on the problems of the super rich if they throw on the problems of the super poor. Everybody just rotate and see the world from somebody else's perspective.
Lander: I have one more question, how do you combat race fatigue? What I mean by that the number of White people that I've met who say they are tired of hearing about race. You know what, let it go, it's time to move on. How do you combat that complacency and the idea that we've fixed things?
Thurston: I think just because a problem has been around for a while doesn't mean it just magically goes away because we are tired. Fatigue by definition is a lazy cop out but I do understand it because there's another element it's fatigue based on the premise we've already dealt with this. We've freed you, we've let you vote, we've let your women vote, we wrote a bill, Civil Rights, look at Diddy he's got all that money, look at Oprah, look at Baratunde, and that is more of where it comes from that false sense of work completed.
If we can actually make it a little more personal and get people sharing their opinions genuinely maybe if we could have a national Facebook friend program. You've got to see there relationship status, you got to see all their pictures from their kid's birthday parties and actually see people as people and not just piles of numbers and assumptions of problems and burdens and things that make you tired because there's a lot of beauty in people if we can get past the piles of them and start to work down to what's within. If we can make it more personal and if we can see ourselves in each other through that process that should lower that level of fatigue and sort of make it interesting.
Lander: It's so right! That's absolutely it kind of combat the fatigue with humor and personal experience because like you're saying it's hard to demonize someone when you actually know them. When they're a statistic, a number and part of a group it's very easy to demonize but when there's humanity behind it, a real person behind it; it becomes more difficult.
Thurston: Right, the world is dealing with this whether certain people are tired or not. The world is getting browner and to just like say "I don't want to deal with it, I don't understand," that's not really going to cut it. There's a great future for all of us and burying your head in the sand and saying I don't want to deal with it, ok, that's a way to go, but it's not a great way to grow.