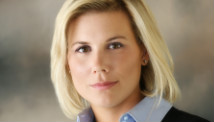 Editor's note: Jennifer Gratz was the plaintiff in the Supreme Court case Gratz v. Bollinger which challenged affirmative action policies at the University of Michigan, Ann Arbor. She has since led efforts against racial preferences. Gratz graduated from the University of Michigan, Dearborn, with a degree in mathematics in 1999.
By Jennifer Gratz, Special to CNN
(CNN) - There is a short phrase, just four words, inscribed up above the main entryway into United States Supreme Court, "Equal Justice Under Law."
I took note of this inscription on April 1, 2003, when my case, Gratz v. Bollinger, and a companion case, Grutter v. Bollinger, were heard by the high court. My case challenged affirmative action policies in admissions at the University of Michigan's undergraduate school; Barb Grutter's challenged affirmative action policies at the law school. By the time my case was heard by the Supreme Court the University of Michigan admitted that their affirmative action policy gave a 20 point boost to blacks, Hispanics and Native Americans on an admissions rating scale.
When I applied to University of Michigan in Ann Arbor for admission in 1995, I thought it was my path to medical school. When I received a rejection letter, I ultimately reconsidered my career choice, and pursued a degree in math at another University of Michigan campus. My confidence was shaken.
The court's inscription brought confidence as I sat listening to oral arguments on that cold spring day. After all, how could anyone – especially legal scholars – conclude that "equal" meant unequal?