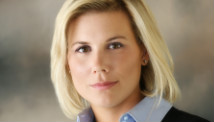 Editor's note: Jennifer Gratz was the plaintiff in the Supreme Court case Gratz v. Bollinger which challenged affirmative action policies at the University of Michigan, Ann Arbor. She has since led efforts against racial preferences. Gratz graduated from the University of Michigan, Dearborn, with a degree in mathematics in 1999.
By Jennifer Gratz, Special to CNN
(CNN) - There is a short phrase, just four words, inscribed up above the main entryway into United States Supreme Court, "Equal Justice Under Law."
I took note of this inscription on April 1, 2003, when my case, Gratz v. Bollinger, and a companion case, Grutter v. Bollinger, were heard by the high court. My case challenged affirmative action policies in admissions at the University of Michigan's undergraduate school; Barb Grutter's challenged affirmative action policies at the law school. By the time my case was heard by the Supreme Court the University of Michigan admitted that their affirmative action policy gave a 20 point boost to blacks, Hispanics and Native Americans on an admissions rating scale.
When I applied to University of Michigan in Ann Arbor for admission in 1995, I thought it was my path to medical school. When I received a rejection letter, I ultimately reconsidered my career choice, and pursued a degree in math at another University of Michigan campus. My confidence was shaken.
The court's inscription brought confidence as I sat listening to oral arguments on that cold spring day. After all, how could anyone – especially legal scholars – conclude that "equal" meant unequal?
I thought I was prepared to hear anything during those arguments, but I don't think anything can prepare you to hear your own name referenced by a Supreme Court justice, as if you are just a policy on paper. If I remember correctly, "Gratz" was referenced in the very first question asked that day.
Each time they mentioned my name, I wanted to jump out of my seat and say, "I'm sitting right here. I'm a real person."
Just after the oral arguments, I stood on the steps of the court fielding questions from reporters and pointing up at that inscription, "Equal Justice Under Law." In the days between oral arguments and the decisions in the Gratz and Grutter cases, I hoped the words inscribed in the building - the words enshrined in our Constitution's 14th amendment - mattered. I hoped that the Court would find that diversity and other equally good intentions did not trump my right, or anyone's right, to be treated equally and without regard to skin color by public institutions.
The Supreme Court handed down its split-decision in the Michigan cases on June 23, 2003. I won my case against the University of Michigan, but because the court upheld race preferences at the law school, I believed there was little to celebrate.  Justice Sandra Day O'Connor penned the 5-4 decision in Grutter, letting state-sanctioned racial discrimination continue for one reason only - to promote racial diversity on college campuses. The court acknowledged that race preferences were discriminatory and a majority agreed that one day this discrimination should be unconstitutional. O'Connor even wrote that she hoped these policies would no longer be necessary by 2028. Talk about a kick to the gut, government sanctioned discrimination in the form of race preferences was allowed to continue in order to promote the "common good."
Abigail Fisher's challenge to race preferences in admissions at the University of Texas will be heard by the Supreme Court this fall. I've never met her, but I know what it's like to feel the sting of discrimination and be told it was for the "common good." I know what it's like to wonder if the very people who talk about the "common good" would sit idly if their sons and daughters were discriminated against by universities and other public entities for the sake of diversity.
Finally, I know what it's like to hear the empty talking point that "women are the primary beneficiaries of affirmative action," failing to acknowledge that it has been women who have championed the cause of equal treatment without regard to race for the last three decades. Cheryl Hopwood challenged it in the 1990s against the University of Texas, which set-up Fisher's new challenge. Katuria Smith challenged the University of Washington in the late 1990s. Barb Grutter and I challenged the University of Michigan in the 2000s.
Before the court hears arguments in Fisher's case, I hope the justices notice that a lot has happened since Gratz and Grutter were decided.
Immediately following the Michigan decisions, I uprooted my life, resigned from a great job in the software industry and started the Michigan Civil Rights Initiative, a statewide ballot initiative that asked Michigan voters to decide if race preferences should continue at the University of Michigan. Overwhelmingly, Michiganders voted to neuter O'Connor's ruling in the Grutter case, making state-sponsored discrimination unconstitutional in the Wolverine state.
Arizona, Nebraska and New Hampshire followed Michigan's lead and Oklahoma is poised to ban race preferences this November. A critical mass, 27% of the population, now resides in states where race preferences have been banned by voters. California, Washington and Florida banned race preferences prior to the Michigan decisions.
My hope for Abigail Fisher is that when the justices reference the name Fisher, they don't see an ambiguous, seemingly benign affirmative action policy on paper, but that they visualize a young woman whose dreams were dashed because of discrimination sanctioned by the state. I hope they see a young woman who is fighting for her right to equal treatment under the law. In 2012 it is long past time that the court follows those four words inscribed in the Supreme Court building and rules that equal means equal.

The opinions expressed are solely those of Jennifer Gratz.