By Elizabeth M. Nunez, CNN
(CNN) - When 10-year-old Anna Maria Chavez joined Girl Scout Troop 304 in the small town of Eloy, Arizona, she never thought the experience would eventually lead her to occupy a colorful office just off Fifth Avenue in the heart of Manhattan.
While about half of all women in the United States were Girl Scouts at some point in their lives,  today, one in 10 of those girls are Latina. One of them is Chavez, who last year became the first Hispanic CEO of the organization.
At the headquarters of Girls Scouts Inc., Chavez is celebrating the organization's 100th anniversary surrounded by apple-green walls and shelves of memorabilia. Instead of magazines in the small waiting area, there are cookie jars.
"I never ever imagined that I would become the national CEO of Girl Scouts," she said. "You need to understand where I came from."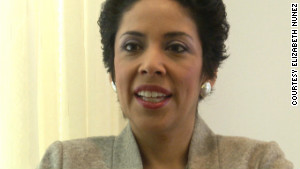 Anna Maria Chavez
Chavez was the only daughter in a Mexican immigrant family that came to the U.S. to work on farms. Hers was the first generation in the family to attend college.
Chavez said when she was a girl her own family had no knowledge about Girl Scouts and what they do. "I went home to my abuelita, my nana, and I said, 'Nana I'm gonna be a Girl Scout,' and she said 'Y eso? Que hacen?' you know, 'What do they do?'" Chavez recalled.
For a young Chavez, camping and meeting girls from different backgrounds helped her to become more confident and independent. That helped in her teen years, when she moved from Eloy to Phoenix, and entered a large school where she was one of about a dozen Mexican students.
Her undergraduate education was at Yale, where a high SAT score helped her get accepted and earn a scholarship.
"When I got in, people were shocked and dismayed because nobody in our high school had gotten into this school. 'You're Latina, don't you think you should stay in state?'" she said. "And I was like 'Wait a minute, I have no boundaries!'"  She credits her Girl Scouts experience with helping her to make that decision.
Gallery: The first Girl Scout: Daisy Gordon Lawrence
Her tenure in the Girl Scouts also helped her make her career choice. Chavez remembered a family picnic during childhood, when she discovered a cave with Native American drawings that had been scribbled over with graffiti. Her outrage, she recalled, turned into a desire to become an attorney and "make laws" to stop things like this from happening.
"Only the Girl Scouts could charge me in a way to understand that even as a small girl, I could make a difference…" she said.
So after Yale, she returned to Phoenix to get a law degree and went on to become a successful attorney, eventually working for former Arizona Governor - and Girl Scouts alumna - Janet Napolitano. Later, she took up regional direction of Girl Scouts in San Antonio, Texas.
The position paved the way for her current job at the helm of the organization in New York.  "Girl Scouts and my family taught me to dream big," she said. "Nothing was impossible."
Now, she's on a mission: To help the Girl Scouts of today become the leaders of tomorrow, like she did.
"If you look across the country, the top 10 job sectors, only 18 percent of leadership positions in those sectors are held by women," she said, citing a survey conducted by Girl Scouts. "What were saying is, 'Wouldn't it be great if we could increase women in these leadership roles?'"
That message of leadership especially resonates with Latina mothers, who "want their daughters to succeed; they want their daughters to explore other options in their lives," Chavez said.
According to the Girl Scouts, there are three million girls and women volunteers in the United States alone. The organization is present in 90 countries and claims to have made an impact in the lives of more than 59 million members in the course of its history.
As the scouts turn a century old, Chavez is intent on revamping the organization's image. "People love Girl Scouts… they see our brand and they smile and think cookies, camp and crafts, but we want them to see premier leadership organization for girls in this country, if not this world," she said.
Her vision for the future was already working in Queens Village, New York, where several troops met to commemorate World Thinking Day, a celebration of Girl Scouts around the world and a chance for scouts to pin new badges to their vests.
Malcolm Robertson, a sixth grade social studies and science teacher from Brooklyn, was there with his daughter Alexis, 16. He said Girl Scouts have given his four daughters service, public speaking and travel opportunities, and Alexis, who has been a Girl Scout for 12 years, is thinking of leading a troop.
The experience, she said, has taught her respect and leadership. "It prepared me, made me into a more well-rounded person," she said.
"Many of our girls are from Hispanic, and Caribbean heritage. Most are born here but the parents are immigrants," said Nalda Gomes, 43, a troop leader from Antigua. The girls in Queens and their families are from every corner of the map: El Salvador, Dominican Republic, Haiti, Guyana, Afghanistan - and Brooklyn.
"We take the girls to science, technology, engineering and math (STEM) programs that the council offers," Gomes told CNN.
The focus is deliberate.  It's where jobs – and leaders – will be needed in the future.
Troops across the country are taking up STEM projects, like The Flying Monkeys from Ames, Iowa. They designed a robotic prosthetic arm to help a toddler who was born without fingers. Their design called BOB-1 won the Global Innovation Award sponsored by FIRST LEGO League and the X Prize Foundation.  It was presented at the White House science fair last month. The girls also received $1,000 college scholarships from Iowa State University if they decide to enroll in engineering there.
"We know that as a country were going to need more and more individuals focused on those areas," Chavez said. "We are encouraging girls as early as five years old to learn about chemistry and math and financial literacy."
Chavez is working hard to ensure that the membership remains connected as they grow up and mentor newer recruits. The goal: to produce a lasting impact on girls' lives.
As the first Latina to head the organization, she knows she sets a powerful example.
"There's probably another Anna Maria sitting out there maybe looking at a newspaper article or web blog saying, 'Wow! If she could grow up and be the national CEO of Girl Scouts, imagine what I can do.'"