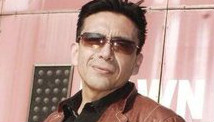 Editor's Note: Tony Diaz is the Founder/Director of Nuestra Palabra: Latino Writers Having Their Say.  He is also the author of The Aztec Love God and a contributor to Mamiverse.com. On Monday, March 12, he begins his "librotraficante" journey from Houston, Texas to Tucson, Arizona.
By Tony Diaz, Special to CNN
(CNN) -The word "librotraficante" should not make sense in the U.S. Yet here it is 2012, and I find myself translating "book trafficker" into English.
But that's what I do.
One of my first jobs as a child was to translate English into Spanish for my mother and father. I remember being in second grade and translating for my father as he bought a used car. I didn't like the way the salesman talked down to my father, and I didn't like the way he talked down to me– even though I was just a kid. However, I knew we needed the car, and I knew I needed to concentrate on finding just the right words to leave with that car.
I embraced education, books, reading and writing because I wanted the right words to use in any given situation. I knew words could solve most things. Words are powerful that way.
My parents were migrant workers in Texas until my father found a job with the railroad in Chicago. He worked hard to send me to school, and would tell me to study hard so I would not have to work hard like he did. He endowed me with the broad shoulders and the broader imagination it would take for me to flourish on the South Side of Chicago.
But even as I excelled in high school and college, there was still something missing. It seemed that no matter how much my parents worked, no matter, how much I struggled, we never moved on from that moment I experienced at the car lot, me in second grade, the system looking down on my dad and me.
I discovered what I was missing when I stumbled upon a memoir titled 'Down These Mean Streets' by the late Piri Thomas. I was a junior in college.
That book about growing up in Spanish Harlem changed my life in countless ways. How had I gone that long without reading a book by a Latino author? Easy. None were available to me- back then. I thought this had changed. It's why I committed my life to writing.
I was wrong. Things haven't changed. In Arizona, things have only gotten worse.
I had no intention of becoming a 'Librotraficante.'
Arizona legislators turned me into one.
It is obvious Arizona legislators were trying to prevent other Latinos from becoming empowered with knowledge when they passed House Bill 2281  that prohibits courses which authorities deemed "promote the overthrow of the United States government."
That's what they believe books about our culture will do: Overthrow the government.
The Tucson Unified School District deemed only one course that dangerous: Mexican-American Studies . All Mexican-American Studies classes were cancelled in January.  The books taught in that course were ordered removed from classes, creating a de facto ban. When I was younger, I did not have the right words to convey what was wrong with the public school education of Latino children. Now I do.
The Tucson Unified School District forced teachers to remove books by our most beloved authors from school classrooms, in at least one instance, while in front of students, during class time.
For me, this was a cultural offense on the same level as denying Rosa Parks a seat at the front of the bus.
This cultural offense was so striking, that we had to respond. The Librotraficante Caravan to smuggle books back into Arizona was born. In the process, we have sparked a nationwide movement.
Arizona legislators became expert at making humans illegal. But they have gone too far by making our books – our thoughts – our culture – our history – illegal.
They have also revealed that their anti-immigrant agenda was without a doubt even broader. They are not just anti-immigrant, but anti-Latino.
The district admits to boxing up and moving to storage a total of seven titles. Among them 'Occupied America: A History of Chicanos' by Rodolfo Acuna, a textbook that has been published for decades and updated seven times and 'Critical Race Theory,' by law professor Richard Delgado, a leading voice on issues connected to race.
But the de facto ban extends beyond the official seven  to include dozens of books taught in now suspended Mexican-American Studies literature classes. Books like:  'House On Mango Street' by MacArthur Fellowship winner, Sandra Cisneros, and 'Woodcuts of Women,' by Guggenheim Fellowship Recipient, Dagoberto Gilb.
Ironically, Arizona legislators may have created what they feared the most.
The Librotraficante Caravan will travel from Houston, Texas on March 12th to Tucson, Arizona, carrying a payload of contraband books, creating networks of  underground libraries and leaving community resources in its wake. One of many responses to Arizona's unconstitutional laws prohibiting Mexican-American Studies, the Librotraficante Caravan has captured the imagination and hearts of activists, writers, educators, and students from all walks of life who want to preserve freedom of speech.
Our allies now include the Mexican-American Bar Association of Houston, the Hispanic National Bar Association, Mamiverse.com, and the American Association of Publishers, with more and more signing on.
The caravan will also provide Librotraficante First Amendment Reviews of School Boards in the six towns we stop in Texas, New Mexico and Arizona. This will consist of a list of current school board members, when they won office, how many votes they received, which polices they put into place during their tenure, and when they are up for re-election.
Our aim is to change the system so that it better reflects the students in classrooms around the country.
There has been out outpouring of support from all sectors of society. Every day, donated copies of the prohibited books arrive in the mail or at one of the four underground libraries we established.
Students from all over the U.S.have been helping raise funds to pay for buses and books, students all the way from Baytown, Texas to DeKalb, Illinois to Colorado Springs, Colorado and beyond.
Arizona politicians never actually feared Latinos would overthrow the government by inciting violence.
They feared Latinos would overhaul the government by voting them out of office.
By prohibiting Mexican-American Studies, they very well may have created exactly what they feared the most.
The opinions expressed in this commentary are solely those of Tony Diaz.