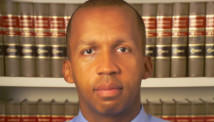 Editor's note: Bryan Stevenson is executive director of the Equal Justice Initiative, an Alabama-based nonprofit that provides legal representation for indigent defendants and for people it believes have been denied justice in the courts. He is a professor of clinical law at New York University Law School. Stevenson spoke at the TED2012 conference this month in Long Beach, California. TED is a nonprofit dedicated to "Ideas worth spreading," which it makes available through talks posted on its website.
By Bryan Stevenson, Special to CNN
Montgomery, Alabama (CNN) - I'm an attorney and I represent incarcerated people, both in my home state of Alabama and across the United States.
I spend every day with people who are poor, disadvantaged, condemned and marginalized. I am persuaded that we can and should do better to create more hopeful and encouraging solutions to poverty, crime and inequality in this country.
In the last 40 years, our society has witnessed unprecedented technological change, incredible innovation and a great deal of promise and success in many areas.