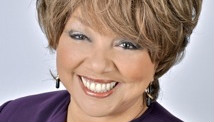 Editor's note: Carole Simpson is the leader-in-residence at Emerson College's School of Communication in Boston, where she teaches journalism and communications classes. She is the first woman or minority to be the sole moderator of a presidential debate, and chronicled her 40 years as a broadcast journalist in her memoir, "Newslady."
For an opposing view, click here.
By Carole Simpson, Special to CNN
(CNN) - Pulitzer Prize-winning cartoonist Garry Trudeau has done it again.  For more than 40 years his comic strip, "Doonesbury" has been criticized for poking fun at presidents, other political figures and government decisions. But his strip is being yanked from some newspapers this week because, for the second time in his career, he has created a storyline that takes on abortion, God forbid.
What prompted Trudeau to invite the wrath of conservative pro-lifers everywhere is the new Texas law, which demeans, demoralizes, and may even damage the reproductive organs of women who dare to seek an abortion.  Passed by the Republican-controlled Texas legislature and signed by Gov. Rick Perry, the law forces a woman who wants an abortion to receive information about her fetus that only can be obtained by a vaginal ultrasound.
During the procedure a doctor inserts a 10-inch sonogram wand into the vagina of a pregnant woman. Then the doctor must show her the image of her fetus and make her listen to the heartbeat.  Then the woman goes home to spend 24 hours considering her decision to abort.  Texas lawmakers wanted to make the procedure so invasive, so painful, and so emotionally devastating that the woman would change her mind.  They hope the woman bears the baby, which may have been conceived through rape or incest, or even if the birth may endanger her life.  It's a prescription for child abuse, child neglect, or child abandonment.
For this week's "Doonesbury," Trudeau created a story damning the Texas legislature.  It begins with a Texas woman going to a clinic seeking an abortion.  The nurse tells her:  "The male Republicans who run Texas require that all abortion seekers be examined with a 10" shaming wand."  WOW.
Another strip shows a doctor about to perform the procedure, and the bubble of words coming from his mouth says, "By the authority invested in me by the GOP base, I thee rape." BAM. Trudeau pulls no punches.
Trudeau told The Washington Post that the procedure, in itself, is a form of rape: "The World Health Organization defines rape as 'physically forced or otherwise coerced penetration— even if slight– of the vulva or anus, using a penis, other body parts, or an object,'" said Trudeau. "You tell me the difference."
The cartoonist has picked sides on what's being called the "war on women." He thinks women are getting a raw deal.  But that's of little comfort.  Eight states now require ultrasounds before a woman can get an abortion and two others are fighting legal challenges to implement the procedure.  None of the other states, however, have laws that require the invasive ultrasounds Texas mandates.
Women of the Lone Star state should look into the possible infringement of their rights guaranteed by the Eighth Amendment to the Constitution prohibiting "cruel and unusual punishments."  That would appear on its face to include vaginal ultrasound procedures inflicted on women by a state government.
Women used to proudly herald, "We've come a long way, baby."  But now it looks like we've hit a brick wall and men are starting to take back some of the mileage we fought so hard to gain.
The opinions expressed in this commentary are solely those of Carole Simpson.