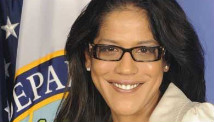 Editor's note: Russlynn Ali is the Assistant Secretary for Civil Rights at the U.S. Department of Education.  She was a teacher, an attorney and worked at the Children's Defense Fund, and she has also taught law at the University of Southern California Law Center.  Ali was appointed to the Department of Education by President Barack Obama in 2009.
By Russlynn Ali, Special to CNN
(CNN) - If a society based on the ideal of fundamental equality is to fulfill its promise, it cannot afford to look away when confronted with stark inequity.  Last week, the Department of Education released a trove of data from Part II of the Civil Rights Data Collection (CRDC), a self-reported survey of more than 72,000 schools that serve 85 percent of the nation's students.
The findings demand our attention.
This survey quantified how school resources are distributed in schools and districts; whether in teacher salaries, the assignment of experienced teachers, or access to college and career preparatory coursework like algebra, calculus or gifted and talented programs.  And it showed that African-American and Latino students routinely receive less.
These disparities stand out even more when contrasted with the one area where African-American and Latino students are consistently overrepresented – discipline, including the rates of suspension, expulsion, and in-school arrests.
In particular, the CRDC data show:
–Teachers in elementary schools serving the most Hispanic and African-American students are paid, on average, $2250 less per year than their colleagues in the same district teaching at schools serving the fewest Hispanic and African-American students.
–African-American students represent 16 percent of sixth through eighth graders, but 42 percent of students in those grades held back a year.
–Across all districts surveyed, African American students are over three and a half times more likely to be suspended or expelled than their white peers.  And over 70 percent of students involved in school-related arrests or referred to law enforcement are Hispanic or African-American.
These findings are troubling in isolation, and even more alarming when considered alongside the results from Part I of the CRDC.  That round of data, released last summer, showed similar disparities in areas like enrollment in pre-kindergarten and kindergarten programs and the distribution of teachers who do not meet state licensing or certification requirements.
Together, the CRDC data paint a distressing picture, of students being divided as they move through the educational system, into two distinct streams – one of which carries far too few minority students toward the kind of college and career preparation that is absolutely essential to equip them for a 21st century workforce and economy.
In the face of such widespread disparity, the urge toward immediate, dramatic action is natural, and strong.  And to ensure and promote educational equity, this Administration and Department of Education have repeatedly taken bold, proactive steps.
When the rigid dictates of No Child Left Behind prevented states from effectively targeting resources to the neediest students, and Congress refused to act, this Administration offered states relief and flexibility – in exchange for commitment to education reforms.  Through our Race to the Top initiative, the Obama Administration has awarded $5 billion to 21 states to encourage expanded access to college- and career-ready courses, and to train and support teachers to help students graduate from high school prepared for college and career.
And it was this Administration that transformed the CRDC – for decades a little-known, unwieldy set of data – into a user-friendly, expanded online public resource with additional equity indicators, searchable down to the school and district level.
Our reinvigorated Office for Civil Rights has issued additional policy guidance, provided technical assistance across the country, and launched well over 80 proactive investigations.
The current CRDC data unquestionably represent another call to action.  But we must be clear and firm in stressing that data alone cannot be a substitute for the thorough investigation necessary to establish violations of civil rights law.
The CRDC does provide vital information about issues of equity, and in order to respond effectively, we must first work with genuine urgency to gain a deeper understanding of exactly what it is the data tell us.  We must continue to work with schools and districts to help teachers and principals develop the best techniques for managing student behavior and focusing energy on student learning.
Fortunately, the CRDC can also help point to solutions, since its wealth of data can be sorted and searched in order to identify schools and districts that are defying trends in pursuit of excellence.
For instance, at Andrew Jackson in Chicago, nearly 70 percent of students are Asian/Pacific Islander, American/Indian/Alaska Native, Black or Hispanic – yet there is almost no achievement gap between groups of students in reading math.  Every African-American and Hispanic student taking Algebra I in grades 7 or 8 passed.  For students without disabilities, less than one percent of African-American and Hispanic students at Andrew Jackson received an out-of-school suspension in 2009-10.
Clearly, there are many schools and districts working hard to do the right thing.  And where the weight of evidence suggests there is cause for concern, our Office for Civil Rights (OCR) is vigilant in acting to enforce federal civil rights law.  OCR has launched 14 comprehensive compliance reviews over the last two years into discipline disparities, for example in cases where it appears that students with similar histories, committing the same offenses, are treated differently based on race.
This variety of approaches is necessary – there is no one way to protect and promote educational equity that will be appropriate in every circumstance.  In many instances, CRDC can serve as a powerful spotlight – one that can highlight best practices, pinpoint areas for teacher and principal training, or illuminate potential trouble spots.  But CRDC's most useful function may ultimately be in its potential to serve as a mirror.  If this data accomplishes nothing else, it can and should prompt schools, districts and communities across this country to engage in the kind of honest, sometimes uncomfortable self-reflection that is at the heart of any sincere effort to improve.
The opinions expressed in this commentary are solely those of Russlynn Ali.