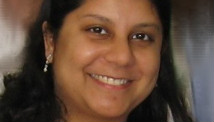 Editor's note: Paromita Shah has served as Associate Director of the National Immigration Project since 2005, specializing in immigration detention and enforcement. She is a contributing author and co-presenter of the "Deportation 101" curriculum, participates in regular advocacy efforts with ICE officials, and has created an abundance of resources for communities affected by heightened immigration enforcement efforts.
By Paromita Shah, Special to CNN
(CNN) - Earlier this month, two groups that support immigrants, Arizona Employers for Immigration Reform and Respect/Respeto, jointly announced the forthcoming "eApp," (Emergency Alert & Protection Program) a smart phone app designed to protect people's safety and help protect them against any civil rights abuses that could occur when people are stopped in their cars for suspected immigration violations.
The app is modeled after the one created for people participating in the Occupy Wall Street movement.  When activated it would notify a pre-set list of people that might include family, friends, lawyers and advocates. The app will also remind users of their rights, and have the ability to record audio and video of the incident.  The groups behind "eapp" are fundraising now and hope to have it available for users this summer.
It's no surprise that the creators of this app are from Arizona, the state where SB-1070 feeds into an anti-immigrant climate leading to well-documented civil rights violations. It's also the state where Maricopa County Sheriff Joe Arpaio has openly waged a decade-long 'war' against people he thinks are non-citizens in the name of stopping unauthorized migration. The greatest tools in his arsenal, prior to Arizona's state law, were voluntary federal programs that allowed police to stop, arrest and detain suspected non-citizens for immigration violations. The result is that SB-1070 and Sheriff Joe's actions have been hurting everyone – not just immigrants.
[youtube http://www.youtube.com/watch?v=i8n24eVMpR0&w=450&h=350%5D
Findings from a three year investigation by the Department of Justice (DOJ) into the Maricopa County Sheriff's office (MCSO) paint a chilling picture of systemic racial profiling where Latinos were between four to nine times more likely to be stopped while driving their cars. The DOJ report details operations against "dark-complected" individuals even though there was no credible information about criminal activity or immigration violations and describes multiple instances of excessive force by MCSO deputies. It concludes that "a pervasive culture of discriminatory bias against Latinos" that "reaches the highest levels of the agency" exists.  The DOJ report follows years of documentation by community organizations of nighttime raids on apartments, unwarranted traffic stops, and checkpoints at churches and schools.
The message? For one out of three people in Arizona who are not white, civil rights abuses are a real concern. Communities have decided to take their safety into their own hands by developing this "eApp" that will reveal what is actually happening during a traffic stop, whether the stop is initiated by the police or immigration agents.
To cast this "eApp" as a way to evade immigration laws is disingenuous.  It is a step in the right direction to counteract a national problem of the rising racial profiling and abuse of suspected immigrants in the United States. With states like Georgia, South Carolina, and Alabama following in Arizona's footsteps, this "eApp" may bring more transparency and accountability to the inaccessible and insular world of immigration enforcement.
The opinions expressed in this commentary are solely those of Paromita Shah.