Editor's Note: Juan Carlos Arciniegas is based in Hollywood, as a correspondent and Showbiz anchor for CNN Espanol.  You can follow him on Twitter @JuanCarlosCNN.
By Juan Carlos Arciniegas, CNN Espanol
Hollywood, CA (CNN) - He is an international star.  Tens of millions of  fans in the U.S. alone follow his telenovelas, collect his magazine covers and post his picture on high school lockers.  Odds are good, however, if you are not Latino, you may have never heard of him - until now.
Some people call William Levy the  "Latino Brad Pitt" (lazy comparison, I know) but until last week Levy was not a familiar name for most of the American television audience.
It all changed last Monday, when Levy was introduced as one of the new contestants on season 14 of the popular TV show, "Dancing with the Stars." Levy and Cheryl Burke, his dance partner, left that day with a score of 24 out of 30, placing him in second place behind competitors Jaleel White and Katherine Jenkins.  Levy also received a standing ovation and, finally, recognition in America that extends beyond the Latino audience.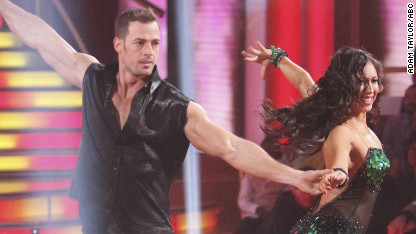 William Levy and his "Dancing with the Stars" partner, Cheryl Burke.
Levy came to the United States from Cuba 17 years ago, when he was a teenager. His dream was the same one shared by thousands of immigrants every year: a bright American future. Things in his native Cuba "were not good," he tells CNN Espanol.
Despite the fact that his family had a rough time in Cuba - his stepfather was given political asylum in the United States - Levy is proud of his Latino roots.
"I will die being Cuban," Levy says.
Even though he lives in the same country where other stars have the recognition he only enjoys overseas (or within the Latino community in the U.S.), he understands the full American audience hasn't been exposed to his work.
Now is the time for him to show it.