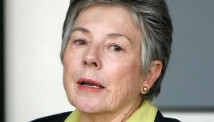 Editor's note: Martha Burk is a political psychologist and an expert on women's issues. She is co-founder of the Center for Advancement of Public Policy, a research and policy analysis organization in Washington, and director of the Corporate Accountability Project for the National Council of Women's Organizations. She serves as the money editor for Ms. magazine. Her latest book is "Your Voice, Your Vote: The Savvy Woman's Guide to Power, Politics, and the Change We Need."
By Martha Burk, Special to CNN
(CNN) - Well, well. The boys at Augusta National Golf Club - members and sponsors alike - are in a big bind. Nine years after I led an unsuccessful effort by the National Council of Women's Organizations to open membership in the club to women, the "woman problem" is back.
This time it involves Virginia Rometty, the first female chief executive of IBM. IBM is a major sponsor of Augusta National's Masters Golf Tournament, and up to now its CEOs have always been given membership in the club. But none has ever been a woman. So what happens now - will Augusta National open its doors to women? Or will IBM pull its sponsorship and force its other executives to resign their club memberships?
These are the only two real choices.