By Stephanie Siek, CNN
(CNN) – Elizabeth Catlett, a leading African-American sculptor, painter and printmaker for much of the last hundred years, died Monday at her home in Cuernavaca, Mexico. She was 96.
"She's had to struggle as a woman, as an artist," said June Kelly, whose New York gallery has represented Catlett's sculpture since 1993. "But she never wavered. That's what I found so marvelous about her - in knowing who she is, and never faltering about how she looked at the world, and women, and how she saw them forging ahead into society and making a place for themselves."
Born in Washington, D.C., Catlett was 16 when she was accepted with a scholarship to the Carnegie Technical Institute, now Carnegie Mellon University. But when she showed up at the campus in Pittsburgh, they turned her away because she was African-American. Later recognizing its mistake, Carnegie Mellon awarded her an honorary doctorate in 2008.
Catlett went on to earn her bachelor's degree in art at Howard University in 1935. Five years later, she became the first student to earn a master's degree in sculpture at the University of Iowa, where she was not allowed to live in the university dormitories and instead lived with local African-American families.
Catlett moved to Mexico in 1946 on a fellowship to study woodcarving at the Escuela de Pintura y Escultura. She was invited to join a group of socially conscious Mexico City artists called the Taller de Grafica Popular (People's Graphic Workshop), and produced pamphlets, posters and other art related to anti-war, labor rights and anti-facist causes. The next year she married Mexican artist Francisco Mora and moved permanently to Mexico. She became the first woman to chair the sculpture department at the National Autonomous University of Mexico in 1959.
The grandchild of former slaves, Catlett often addressed themes related to civil rights and African-American culture in her art. Some of her most famous works depict African-American women, like the 1968 linocut "Sharecropper," the 1968 sculpture "Homage to My Young Black Sisters," as well as "Negro Mother and Child," the wooden carving for which she won first prize at the 1940 American Negro Exposition. She was also influenced by Mexican art – both folk art and that of modern artists like her friends, Diego Rivera and Frida Kahlo.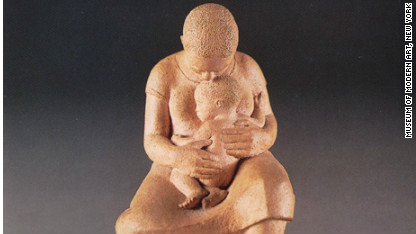 Catlett's 1956 terra cotta sculpture "Mother and Child."

"She saw it as an amalgamation – a coming together," Kelly said. "She saw the same kind of struggle, I think, for women – most of her art was about women, especially African-American women. She used women [as representations] for struggle, for justice, for maternal instinct. She used the beauty of her art to show the world the beauty of what was there."
Catlett is survived by her three sons, Francisco, Juan and David; 10 grandchildren; and six great-grandchildren, according to an obituary in the Los Angeles Times. Her husband Francisco Mora died in 2002.