Editor's note: This is the final part of a six-week series on the perceptions of beauty. Last week, we looked at self-acceptance and self-confidence. This week, we explore how beauty standards across cultures affect perceptions of beauty in the United States.
Check out what CNN iReporters say beauty means to them.

By Sarah Springer, CNN
(CNN) - As 18-year-old Giovana Frediani and her friends stood in front of the mirror to prep for a night out, one girl turned around and complained that her backside was getting big.
It was that moment when Giovana – popular, fashionable Giovana – felt the knock of self-doubt.
As usual, she dressed to accentuate her curves, a typical style among her Latina family and friends. But these friends were from a predominantly white area in Oakland. In her eyes, there was nothing oversized about them.
"If she was saying that about her own body, then she must have been thinking the same way about mine," said Giovana, an American high school senior who grew up in Oakland.
"I almost feel out of place because they define beauty in different ways than I do."
The U.S. population is growing, changing, mixing in new ways - more people are in interracial relationships and more identify as multiracial than ever. Those realities change the way women, especially, look at others, ourselves and the idea of the "all-American beauty," if there is such a thing.
Some trend-watchers and researchers say the increased diversity and mixing among races is shifting the population away from a standard of beauty for women that's dominated by white faces. Others agree that it's happening, but say it's driven by mass media's desire to reach a more diverse audience – or sell products to it.
Out of 2,000 people who responded to an Allure magazine poll in 2011, 73% of women said they find curvier bodies more attractive now than they did over the last 10 years. People polled said they wanted larger lips, butts and hips, an Allure editor said, and 70% of those who want to change their skin color said they want it to be darker. The same survey said 64% believe women of mixed race represented the "epitome of beauty."
And 71% of women and 67% of men said there's no such thing as an "all-American" look.
The results were wildly different from a similar poll the magazine conducted when it launched in 1991, Allure Executive Editor Kristin Perrotta said.
"There was a dramatic shift in what people considered the beauty ideal in America now," she said.  "We went from the blond hair, blue-eye, typical all-American girl like Christie Brinkley in 1991, to this dark, sultry Angelina Jolie ideal in 2011.
"It just was not what you would have imagined the Hollywood ideal being, which is also this tall, thin, blond ideal that we are sort of used to."
But even before girls and women tackle universal beauty ideals, they're often struggling to understand standards closer to home.
'Looking in the same mirror as everyone else'
Marium Soomro parents' are from Pakistan, and even before she hit the teen years, her mom brought home the skin lightening cream Fair and Lovely. Women in her family used it in Pakistan, and carried on the practice in the United States, she said - even her fairer-skinned mothers and sisters.
"'Hey, put this on, you'll get whiter,'" she remembers her mom saying. "Or, 'Put yogurt on your face at night and your skin will get lighter.'"
Soomro is 23 now, and a student at Rutgers University. She still uses the cream sometimes, she said.
Then there's Leslie Rosales, 27, a Filipino who was born and raised in a predominantly black neighborhood in South Los Angeles. She's Asian, but connected more with her black friends' sense of beauty and style.
"Going to the Philippines, everyone there was petite," she said of trips to her family's home country. "They're small and for some reason I'm not. I'm 5'4" and I weigh 155, I'm considered an overweight giant in the Philippines.
"I felt the pressure from family and tried to change, so that was difficult, dealing with what my family thought I should look like opposed to what I thought I should look like."
Giovana, the Oakland high school student, said she feels pretty among her classmates and community, and it makes her feel in control. But in a different part of town, among a different set of friends, feeling not-so-pretty made her want to act differently, too.
"Honestly, I wonder if I'm looking in the same mirror as everyone else," Giovana said. "I've noticed just how important a perfect body is to every girl. It's like we are blindly trying to find a way to be who we want to be and the most immediate way we can think of to manipulate who we are is physically."
When a person is confronted with a dominating culture that differs from their own, the culture outside the home tends to win, said Maya Poran, an associate professor of psychology at the Ramapo College of New Jersey.
"If what you're sharing in the home is contrasting from that immediately around you and the power of that communication is so much more constant and intensive, we do find that dominant cultural norms win," she said. "If every single day we're getting feedback that is telling us negative, it is likely that we are going to feel that thing is negative."
Although perceptions of beauty can differ depending on culture, race, ethnicity and experience, no one is exempt from the pressures of universal beauty ideals within America.
"The issues about body and beauty are shifting - they're not disappearing," Poran said. "Everyone is affected by it, influenced by it, and related to it in some way."
Even as body and beauty standards shift and include more people of color, Poran said there will still be a dominant body type – thin and white - which can be a struggle for women outside that body type.
"There is a white norm and there's a black norm and a Latina norm and there is an Asian norm, and they are all equally different, but there is a dominant standard of beauty, which is white or white-like," Poran said. "The more people who are included in very a narrow version of beauty, the more likely they will compare themselves against it and feel negative about themselves."
"No one is untouched by it. No one."
 'A a narrow version of beauty'
Poran, who is writing a book about race and beauty, said she began to research body ideals after she noticed most studies used white women as a standard of beauty, even as they studied women of different racial and ethnic backgrounds.
"For the majority of this research vein, whiteness was the unquestioned image of beauty," she said. "Meaning when we're talking about beauty or body, they were covertly talking about whiteness, but not realizing it."
Poran organized different focus groups geared toward allowing white, black and Latina women to define their own feelings about beauty.
Young black and Latina women Poran interviewed said they felt judged by multiple standards of beauty – one within their own racial or ethnic community, and another set by a larger white, Anglo community.
"There was no way to get it right," Poran said. "If you can walk through many different worlds at once, you can be judged by many different standards at once."
And the pressure to be thin and light-skinned can weigh even on those who seem to match it most closely.
As a child and teen, Rachel Blais always felt ugly. She was pale and tall with curly hair.
"I was very skinny, I had no boobs, I guess that body type when you're about 13, 14," said Blais, who was recently featured in the documentary, "Girl Model."
At age 14, she was recruited to work as a model. By 17, she was traveling internationally for her career. Now 27, she still works in the industry, but she's among the older models, she said. Many of her colleagues now are prepubescent girls or teens, all of them posed to look like older women.
"Using 15-year-old girls to represent the ideal woman makes me think that a woman of 25, 30, 40 years old looks at those billboards and at a magazine and is looking at girls … disguised as women promoting clothing for women," she said. "You can't ever go back to being 15."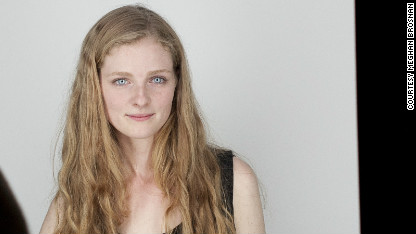 Rachel Blais is featured in the documentary "Girl Model."
Joan Jacobs Brumberg, a historian who wrote "The Body Project: An Intimate History of American Girls," said it's easy to blame images in the media, but women's body obsessions were long in the making – and modern conveniences have made it easy to keep those obsessions going.
"I always say you can't blame it on Twiggy or Calvin Klein. I think they're implicated," but it really started in the 1920s, she said. "When you have calories, when you have mirrors, when you have bathroom scales, when you begin to have standard sizing, you don't have a dressmaker, or a mother who makes your clothes and you have to get into a particular size - those things are critical in how women think about their bodies."
Taylor Cook, an agent at Fusion Models in New York, said lithe bodies and symmetrical faces are still in demand, but the modeling industry is starting to seek more diverse skin tones and features prominent only among certain ethnic groups. Asian models like Tian Yi and Lina Zhang are representing products in national and international media.
"(They are) two of our top-selling girls, getting all of the major beauty campaigns and high-fashion editorials, and looking at other agencies, their Asian girls are doing really well," Cook said. "If you would have gone back a few seasons, you didn't see a lot of Asian girls."
Perrotta, the Allure editor, expects America's celebrated beauties will keep changing, too.
"In terms of the models and celebrities who are idolized, they'll be ethnically vague. You can't tell if they're black or white or Hispanic, it's going to be this mixture," Perrotta said. "Everyone can see a little bit of themselves in these people rather than the classically Anglican features, or classically black features."
Linda Blum, associate professor of sociology and interim director of women's, gender and sexuality studies at Northeastern University, said changing standards of beauty are driven more by business than by cultural curiosity, diversity or acceptance.
"If we have more multiracial children, or more biracial children will (this) lead to more uniform and diverse standards of beauty? I don't really think so," Blum said. "I don't mean to be completely conspiratorial, but (people will) have to find some other way to sustain growing markets."
Maybe, with the next generation of consumers.
Giovana, the student in Oakland, will graduate high school this year. She thinks life outside the classroom walls will make it easier to understand who she is and what she thinks is beautiful – or how much it even matters.
"I do have a mind, I do have a direction that I want to go in, and aspirations," she said.
Her goal? Show business.
"I want to do something in that industry," she said.
Then she added, laughing - "which is all based on looks."