By Stephanie Siek, CNN
Cleveland (CNN) – It's the Cleveland Indians home opener and the grounds outside Progressive Field are a sea of red and blue jerseys. As the crowds of celebratory fans walk toward the ballpark's entrance, they pass a small group of protesters holding signs that say that the team's name and mascot, Chief Wahoo, are racist and offensive.
About 10 people stand in a small park next to the stadium, quietly holding signs that say "People Not Mascots" and "Stop Teaching Your Children Racism." Every once in a while, someone in the stream of baseball fans pauses to shout mockingly, "Chief Wahoo Rules!", "You killed Custer" or just "Shut up!"
Robert Roche, executive director of Cleveland's American Indian Education Center and a Chiricahua Apache tribal member, says it's been like this each of the 30-some years he's been protesting. The shouting gets angrier and more frequent the closer it gets to game time, with many of the hecklers fresh from the nearby bars.
"If you stand here long enough," Roche says, "you'll see that racism is alive and well in Cleveland."
Not long after, a man in dressed in a feather headdress, face paint and a sweatsuit airbrushed with images of Chief Wahoo walks past and makes faces at the protesters. People in the crowd around him break out in war whoops.
Local Native Americans and advocates have been protesting the name and mascot on Opening Day since 1973. They say calling a team the Indians plasters over the history of exploitation of indigenous people by the Americans who displaced and often mistreated them. They regard Chief Wahoo as even worse - the caricature of an American Indian with bright red skin, a toothy grin, hooked nose and feather headband plays on stereotypes of Native Americans.
Every year the protesters have spread the same message about the offensiveness of the team name and logo, and every year they face ambivalent and sometimes belligerent fans, who repeat the legend that the Indians team name was chosen to honor, not denigrate, Native Americans. It's a legend that every Cleveland-area baseball fan grows up with, and one that appears in the team's official storytelling.
According to a timeline on the Indians team website, the Indians name dates to 1915, when what had been the Cleveland Naps was renamed to honor an earlier player, Penobscot American Indian Louis Sockalexis. Messages left for a Cleveland Indians communications official on Wednesday, Thursday and Friday were not returned.
In an April 4 story about the controversy in the Cleveland Plain Dealer newspaper, team spokesman Bob DiBiasio said he respects protesters opinions, but as to whether the team symbols are racist or not, "it is an individual perception issue... When people look at our logo, we believe they think baseball."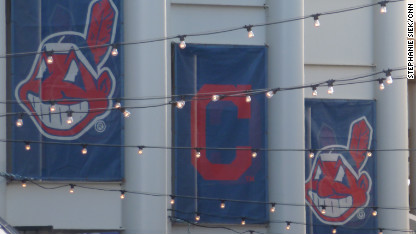 The Cleveland Indians began using the Chief Wahoo logo in 1947.
A different examination of the team's history showed the name's origin is murkier.  Ellen Staurowsky, a Drexel University professor who has researched the role of race in sports, wrote about the team's naming origins in a 1998 journal article for "The Sociology of Sport." Her examination of local newspaper articles printed around the time of the 1915 renaming cast doubt on whether honoring Sockalexis was ever part of the discussion.
"Sockalexis is not mentioned… the Plain Dealer (newspaper) reported that the nickname was 'but temporarily bestowed until such time as the team could earn some other cognomen which may have been more appropriate,'" Staurowsky wrote. "This statement does not support the notion that the name was intended to permanently pertain to the team, let alone permanently honor a figure who did not warrant mention at the time the selection was announced."
Staurowsky said it's more likely that the loosely organized committee of sportswriters choosing the name wanted to piggyback off the success of the Boston Braves, which had won the World Series the year before. And naming the team the Indians lent itself to the sort of colorful war metaphors favored by such writers at the time.
Sockalexis had played for an even earlier incarnation of the team, the Cleveland Spiders. He was one of, if not the, first Native American to play for the Major Leagues. Sockalexis, an outfielder who was renowned for his distance throwing and hitting skills, was one of a handful of professional players at the time who had played for a college team – for Holy Cross in Worcester, Massachusetts and Notre Dame in Indiana – before being recruited to Cleveland.
The tall, muscular fielder played for just two years. Months after signing with the Spiders in 1897, he severely injured an ankle after jumping or falling from a second-story window while drunk. The man hailed as one of the greatest natural talents of his time saw his batting average go from .338 to .273, and his apparent instability led him to be let go from the team in 1899. He died in 1913 of heart failure, at 42 years old.
According to an 1897 article by Elmer Bates in the "Sporting Life" newspaper, Sockalexis was sometimes taunted by fans because of his heritage. "In many cases these demonstrations border on extreme rudeness," Bates wrote. "In almost every instance they are calculated to disconcert the player."
The bigotry displayed by those fans seeps through to the behavior of fans today, said Staurowsky, the Drexel professor, who said she occasionally travels to attend the yearly protests.
"I've always found it compelling that the club has claimed that the whole purpose of the naming is to honor an American Indian, and the behavior of the fans when they're confronted with actual American Indians protesting is quite contrary to honor," Staurowsky says. "The fact that this has been going on for years and the behavior essentially hasn't changed speaks to a level of racism that is so very difficult to eradicate."
It's a fact that makes the fans in Wahoo caps' heckling of the protesters even more galling, said protest organizer Sundance, a Muskogee tribal member and director of Cleveland's chapter of the American Indian Movement.
"People know what they've been taught," said Sundance, who goes by only one name. "In the United States, we have propaganda that allows this to go unchecked because it's convenient to subjugate Native Americans to sell merchandise."
A poll on the Cleveland.com news site this week said local attitudes are mixed. It asked readers, "Chief Wahoo and other Native American mascots, logos, and names: Racist or not?"  Out of more than 5,300 votes cast by Friday afternoon, nearly a third said such depictions of ethnic groups were racist and that Chief Wahoo should be replaced. Another 31% said "No way. Chief Wahoo in particular is a beloved part of the Cleveland sports culture, not a racist symbol." Another 26% said that the name and logo were not racist and only "overly sensitive, politically correct people" would be offended by them. About 10% of voters said some such symbols were racist – "but there's nothing wrong with 'Warriors' or 'Braves' because they imply strength, not racist exaggeration."
Daniel Fall, a native Ohioan who flew in from his current home of Atlanta to see Thursday's game, said he's "not crazy" about Chief Wahoo. But Fall said he doesn't believe the Indians name indicates any ill will toward Native Americans, and wants the name to stay.
Still, he said, "I'm glad people want to come out and voice concern. There's nothing wrong with a little introspection."