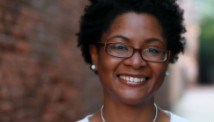 Editor's note: Erika Peterman is a writer and editor who lives in Tallahassee, Florida. She is the co-founder of the blog Girls Gone Geek and is a regular contributor to CNN's Geek Out blog.
By Erika Peterman, Special to CNN
(CNN) - When you really love a book, the characters live and breathe in your imagination. No matter how the author describes them, you form your own ideas about how they look, which is why fans become deeply (and I mean deeply) invested in the choices of actors to portray them onscreen.
Like the "Harry Potter" and "Twilight" nerds before us, we devotees of "The Hunger Games" spent a lot of time discussing and debating those choices before the film's release. In the case of an undisputed phenomenon — the movie passed the $300 million mark over the weekend — some controversy is inevitable.
But there's one sentiment I wasn't prepared for. In short: "What the hell are black people doing here?"
As Jezebel.com and CNN.com reported, the site Hunger Games Tweets shone a light on a very ugly corner of fandom by posting screen-captured tweets from people who were dumbfounded or angry about non-white actors being cast in certain roles. Biracial singer Lenny Kravitz plays Cinna, the kind stylist who prepares heroine Katniss (Jennifer Lawrence) for the pageantry leading up to the savage competition. Thresh (Dayo Okeniyi), a games competitor who appears in a pivotal scene, is black.
But some of the most jaw-dropping comments were about Rue (Amandla Stenberg), the angelic, doomed 12-year-old who dies about midway through the movie. Here's a sampling, and hold your nose:
"why does rue have to be black not gonna lie kinda ruined the movie"
"EWW rue is black?? I'm not watching"
"Sense (sic) when has Rue been a n****r"
Aside from this repulsive outpouring of contempt, there is a reading comprehension issue. Writer Suzanne Collins clearly describes Rue and Thresh as having dark skin. That is open to some interpretation, but in books focused largely on white characters, this usually means that someone is … not white. The novel leaves much to the imagination regarding Cinna, so who cares if an actor of color plays him? Woody Harrelson wasn't my vision of Haymitch, Katniss' drunken mentor, but that's hardly cause for outrage.
Not all of the tweets were quite so hostile, as some people seemed merely confused by the casting choices. However, the common thread in this chorus of "Why?" is an overwhelming assumption that white is the default, and that the presence of anyone else is at best odd and at worst unacceptable.
This attitude is hardly isolated to "The Hunger Games." When Peter Parker died last year in the comic book "Ultimate Spider-Man," writer Brian Michael Bendis brought forth Miles Morales, a half-black, half-Hispanic teenager, to step into his tights. Peter was beloved to all fans of this comic book, including me, but some readers couldn't handle the idea of a brown kid in the role.
On a friend's Facebook wall, one guy ranted that, pretty soon, all comic book characters would be either non-white or gay so that "minority" readers could relate. I couldn't resist challenging him: "Really? I've managed to relate to Peter Parker just fine all these years, despite being black and female."
He didn't respond.
Perhaps that's what's most depressing — the idea that if someone is of a different race, it's impossible to feel any sense of connection or care about them. And how ironic in this case, as the relationship between Katniss and Rue is such a poignant part of "The Hunger Games" novel and movie. Rue's death is a heart-wrenching symbol of the games' cruelty in forcing children to kill each other or be killed, and I wasn't the only one sniffling in the theater.
If a viewer can't get see beyond skin color to process the sheer sadness of that moment, a "ruined" movie experience is the very least of their problems.
The opinions expressed in this commentary are solely those of Erika Peterman.