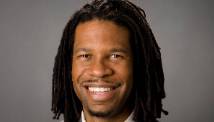 Editor's note: LZ Granderson, who writes a weekly column for CNN.com, was named journalist of the year by the National Lesbian and Gay Journalists Association and a 2011 Online Journalism Award finalist for commentary. He is a senior writer and columnist for ESPN the Magazine and ESPN.com. Follow him on Twitter: @locs_n_laughs Watch him on Tuesdays on CNN Newsroom in the 9 am ET hour.
By LZ Granderson, CNN Contributor
(CNN) - Within the next day or two we could hear from the special prosecutor's office about her decision on whether to charge George Zimmerman.
Regardless of what she says, chances are a lot of people are not going to be happy with the decision. It's an emotional story with many layers that will likely end with more questions than answers, and more division than unity along racial lines.
I know when I heard about Trayvon Martin's killing, the story immediately touched my heart because I could see my own 15-year-old son in Trayvon.
Similarly, when I heard about the apparent racially motivated killing spree in Tulsa, Oklahoma, last week, it angered me because I could see my brothers and uncles in the slain victims.
But something different happened inside when I saw the video of a white tourist being savagely beaten and stripped by a bunch of black thugs in
Baltimore over St. Patrick's Day weekend.
My heart wasn't touched.
I didn't get angry.
Instead, I just became cold.