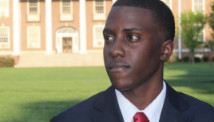 Editor's Note: Jared Loggins is a Martin Luther King Jr. Legacy Scholar and political science major at Morehouse College.

By Jared Loggins, Special to CNN
(CNN) - As an entire nation marked the anniversary of the slaying of civil rights leader the Rev. Dr. Martin Luther King Jr. last week, members of the Morehouse College community came together not just to celebrate the life of a man, but to mark the continuance of the nonviolent revolution Dr. King helped to promulgate .
As we all continue to further develop our understanding of what it means to live in a truly peaceful and nonviolent world, we must do so even amidst a culture of racism, militarism and materialism. As costly wars rage around us; as weaponless young black men are killed for appearing "suspicious," and even as society continues to drown in material wealth, we must still find a way to move toward living in what Dr. King called "the beloved community."
This community must be one that embodies multiculturalism; it must look beyond the hue of one's skin; and it must cease accepting laws that directly conflict with the foundation of America.