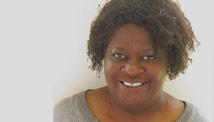 Editor's Note: Tangela Ekhoff is an inspirational speaker and ordained elder in the Presbyterian Church, U.S.A. She blogs about marriage, motherhood and life in Oklahoma at Homegirl on the Range, and has written for CNN's Belief blog.

By Tangela Ekhoff, Special to CNN
(CNN) - On a hot, steamy summer day, when I was 10 or 11, my mama and I rode downtown to do a little shopping. As we got off the bus, I looked up the street toward the Alabama capitol. In the distance, I could see a gathering of people. Glimmers of white dotted the crowd like cotton on the side of a dusty road.
After we finished, we got a couple of cold Cokes to go. My mother was uneasy that day.
"We need to hurry up and get home before something bad happens," she said.
As we got on the bus and headed up the street, I could see more clearly. It was a Ku Klux Klan rally. I looked out the window and right outside the Dexter Avenue Baptist Church, where Rev. Martin Luther King's voice became the sound of movement, there was a grown man and a little boy of maybe 5 or 6. They both wore matching white robes and hoods on their heads so you couldn't make out their faces. The little boy looked me square in the eye, gave me the finger, and screamed "Dirty N-–." The man patted the boy on the back and laughed out loud. This wasn't 1955. It was 1979 or 1980.
Mama put her thick mahogany arm around me, and tried to wipe the tears off my face. "I'm sorry, baby. Always remember they wear those hoods to hide their faces, but those robes don't hide their hearts. They're cowards." I looked up at my mother, and she was crying, too. I wasn't a little girl anymore. I was a little black girl in Montgomery, Alabama.
Not so long ago, racists had to work hard to spew their venom. They had to starch their robes, get in their trucks, and meet face-to-face with others who viciously hated minorities, gays, women, Jews, and even Catholics.
These days, cowards use the anonymity of computers as their robes and hoods of hatred. With a click of a mouse, you can witness a virtual cross-burning led by the guy in the next cubicle.
It's ironic to think that someone who posts about "lazy" blacks and Hispanics might be running a cyber-Klan meeting while on the clock. With a few keystrokes, people have allowed the hate in their heart to reveal itself by sharing, reposting, and curating images and words that are destructive to the very fabric of our nation.
The last few weeks have been frightening for me as a mother and as an African-American. I had just begun to wrap my brain around the senseless shooting of Trayvon Martin. This past weekend, in Tulsa, Oklahoma, where I now live, two men have been accused of going on a rampage, apparently targeting and shooting men for just being black. One of the assailants took to his Facebook page before the murders to hurl epithets and threats. As a mother, it makes me worry what kind of America my sons will inherit.
Online, I have seen my social media pages erupt into a digital uncivil war. The Mason-Dixon line is no longer a physical place; it's a state of mind. Some of my virtual friends have used these tragic situations as an opportunity to let their inner racist roam free. I am appalled at what some have posted and reposted.
I am not proud of the way some African-Americans have used social media in the aftermath of Martin's death and since the Tulsa shootings. Demanding justice is understandable and necessary; demanding blood is wrong. As a community, African-Americans need to take a good hard look at the images, ideas and actions that we are projecting to the world. It's painful to hear, but until we start seeing the value of our own lives, no one else will.
Many of the people spreading hate online call themselves Christians - just check their profiles. Sadly, many of these Christians feel that Jesus loves only people who look like them, talk like them, act like and live like them. Perhaps, it's the stained glass image of a blonde, blue-eyed Jesus that gives people license to use Him to shepherd their digital racism. The truth is Jesus was a Jew. Jesus was a minority. The true picture of Jesus in the New Testament is one painted by his character: kind, forgiving, loving and healing.
Around the holiest time of the Christian year, the time of Jesus' crucifixion, burial, and resurrection, we should all stop to think of his amazing grace. Are you worshiping a Jesus who only loves some people, or are you worshiping a Jesus who died for all of our sins?
America needs to have a come-to-Jesus meeting about race. It's a conversation that has to happen, if we are going to move forward. It is a conversation that should come from a place of healing and honesty, not anger and hate. As the mother of two young sons, I pray we work this out in their lifetime.
Although my own mother came of age in an Alabama that was segregated and defined by vehement hatred of blacks, she never harbored any ill will toward white people. She loved my husband, who is white, just as dearly as she loved her own sons. She lived long enough to vote for the first African-American president, and she believed our country was moving forward. Pancreatic cancer stole my mama last year, but the lessons she taught me about treating every person as a child of God will stay with me forever. I hope to pass this legacy of compassion on to my own children.
We should take a moment to think before we click. Would Jesus of Nazareth "like" an image or message that you are about to share, or would your Lord and personal savior un-friend you for spreading hatred of your brother or sister? Would Jesus read the comments section and be proud that you call him Master?
The opinions expressed are solely those of Tangela Ekhoff.