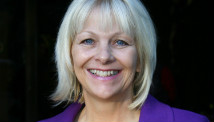 Editor's note: Donna Beegle is president and founder of Communication Across Barriers, a consulting firm that works to increase communication across poverty, race, gender and generational barriers, in part with "Poverty 101" workshops. She has a doctorate in education leadership from Portland State University.
Beegle is taking part in the CNN Dialogues event, "Today's Other America: Living in Poverty," at 7 p.m. tonight at the Rialto Center for the Arts in Atlanta.
By Donna Beegle, CNN
(CNN) - My dream is that a person will not be able to graduate from college without taking a Poverty 101 course. Poverty hurts all humanity and it's the responsibility of everyone to bond together to eradicate it. Our ignorance about poverty perpetuates it and divides us as a nation.
I didn't always know this. I was born into generational poverty; for many decades, most of my family members were uneducated, unskilled and, like 44 million Americans, illiterate. They survived in temporary, minimum wage jobs that didn't pay in respect, nor provide opportunities for advancement.
My dad worked temporary seasonal jobs, the only ones he could get with limited literacy, no education and no specific job skills. My mom, like her widowed mom, picked cotton. We were highly mobile and survived mostly on migrant labor work in Arizona, California, Oregon and Washington. We followed the fruit season to pick cherries, strawberries, oranges and grapefruits. We picked green beans and dug potatoes. They were workers of the land, never owners. My family worked very hard and worked very long hours, but we were still evicted.
In school, I did not know the middle-class life examples teachers used to explain academic subjects. I was unable to understand and speak in their middle-class language; I said "ain't," didn't know whether to use "gone" or "went," didn't know a difference between "seen" or "saw." When told to "go look it up," I dutifully went to the dictionary, only to find five more words I did not know and words no one in my world used. This just reinforced there was something wrong with my family, friends and me. It reinforced that education was not for me.
When I quit school at 15, a teacher said, "Do not quit school, one day, you will want a job." I remember looking at her and saying, "I don't want a job." To me, a job meant you worked really hard and had to leave your family in crisis; that you still got evicted and went hungry. To my teacher, a job meant social honor, security, a roof over her head, insurance, maybe a vacation. She told me I would not go anywhere in life if I wasn't motivated.
If the teacher had been exposed to Poverty 101, she would have the skills needed to find out what motivators made sense to me: My dream in life was to be a mom. Every female I had meaningful interaction with got married and had babies very young. I thought I was put on the planet to be a mom. If my teacher had known my dream, she could have said something like, "Donna you want to be a good mom, don't you? What if one day you have a child that needs your help with some school work? By staying in school, you will be better able to help your child."
In school, I'd grown accustomed to believing that middle-class people, even teachers and principals, didn't care about kids like me. It was much later in my life, when I finally had opportunities to interact with people who study poverty, that I realized it was not that middle-class people did not care.
I saw them volunteering for soup kitchens and battered women's shelters and providing Christmas baskets to families. At first, I couldn't figure it out. If they cared, why would they allow poverty to continue to harm fellow human beings? I quickly learned that most held deep stereotypes about people who lived in it. We are segregated in America, spending our time with people who are like us: People in poverty associate with others in poverty, middle-class people spend most of their time with other middle-class people and the wealthy socialize with the wealthy. They could no more know my life in generational poverty than I could know their lives in the middle class.
If we begin by teaching children about poverty in the K-12 system, everyone would learn about the true causes of poverty and the circumstances that perpetuate it. They would gain empathy and recognition that not everyone has the same chances. More importantly, children in poverty would learn the true causes and be able to externalize the shame taught by their own experiences. It empowers them to understand and change their current context.
The recent recession has proven that none of us are as protected from poverty as we would like to think, that people with incomes from $20,000 to $150,000 identify themselves as middle class, and they can easily be pushed from those levels. Many people who thought they would never be in poverty now need help. Those with college degrees are facing the highest unemployment rates in decades.
Not even people who have lived poverty really understand poverty. For instance, Oprah Winfrey once said that she would rather help children in Africa than children in America; when she asked children in Africa what they wanted, they mostly said they wanted uniforms for school. In America, children said, they wanted iPods and sneakers.
But what Oprah and many others fail to understand is the theory of belonging. Paulo Freire, a Brazilian scholar on worldwide poverty, said, "Every society teaches its people what it takes to belong."
In the United States, we are programmed and socialized to believe we need certain things in order to belong. So, when a kid walks into school with a cell phone or the right shoes, she or he will be noticed. They get societal honor, the right to belong – and humans need to belong. We will do anything to belong. That need is right up there with our need to eat. That is why kids join gangs and why people who cannot afford big screen TVs go into debt to get one. To understand poverty and its impacts, we must also understand human needs.
In teaching Poverty 101, we would teach poverty competency like cultural competency - a grounded understanding of poverty and the people who live in it. We would provide a historical perspective that illuminates how our past thinking has shaped our current approaches in addressing poverty, and clear definitions, since most of us know only the word "poverty," whether we're describing generational poverty, working-class poverty, immigrant poverty or situational poverty. We would explore attitudes, beliefs and values about poverty and the people who live in it, and strategies to help people move out of it.
Armed with information, we can challenge some paradigms. Poverty is not a Republican or Democrat issue. It is not a Catholic or Mormon issue. Poverty is a human issue. We are losing so much human potential to poverty. I am convinced that we can do better, but not in ignorance.
The opinions expressed are solely those of Donna Beegle.