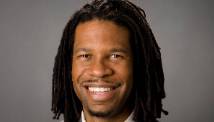 Editor's note: LZ Granderson, who writes a weekly column for CNN.com, was named journalist of the year by the National Lesbian and Gay Journalists Association and a 2011 Online Journalism Award finalist for commentary. He is a senior writer and columnist for ESPN the Magazine and ESPN.com. Follow him on Twitter: @locs_n_laughs Watch him on Tuesdays on CNN Newsroom in the 9 am ET hour.
By LZ Granderson, CNN Contributor
(CNN) - Jennifer Tyrrell dislikes public speaking so much that when she was in high school, she almost failed marketing because she didn't want to speak in front of the class.
But when the Boy Scouts of America made a decision that hurt her little boy Cruz, she did what any mother would do - set aside her own fear, spoke up and, with the help of family and friends, is fighting back.
"I've never been involved with any kind of activism or anything like that before, so this is all new to me," the mother of four said. "All I know is this has got to stop."
And by "this," she is referring to the Boy Scouts' policy of banning gays and lesbians from being members or serving as leaders. Earlier this month Tyrrell was forced to resign as den leader of the Tiger Cubs for Pack 109 in Bridgeport, Ohio, because the national office learned she is a lesbian. So even though everyone in the local chapter loved her, she was forced out by the discrimination that is woven into the organization's bylaws.
The cubs of Pack 109 are upset.