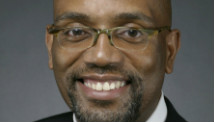 Editor's note: David J. Pate Jr, is an assistant professor at the University of Wisconsin-Milwaukee, Helen Bader School of Social Welfare. He is a member of the Ford Foundation Scholars Network on Masculinity and the Wellbeing of African American Males. The piece was written in association with The Op-ed Project, which seeks to expand the range of opinion voices.
By David J. Pate Jr., Special to CNN
(CNN) - As a father, my heart breaks.
The starting five of the University of Kentucky basketball team — the 2012 NCAA champions — announced earlier this month that they're leaving college to go pro. It happens every year in the wake of March Madness, but as an African-American father, I feel my heart crack a little.
Yes these young champions will make money, lots of it, and will have access to instant fame.
I understand why they made the choice, but their collective decision says something about the options in front of all young African-American men. The Great Migration that saw my elders move from the farm to the factory has shifted; these days, too many men of promise move from college to pro sports.
I've been researching the lives of black men for much of my entire career, as a social worker for 15 years in Chicago and since 1998 as a college professor and scholar in Milwaukee. I've interviewed them, written about them and filmed them, capturing their lives and hopes; I've spent most of my time with men who had little to no incomes and limited academic and employment skills. They are often frustrated, homeless, unemployed and debt-ridden.