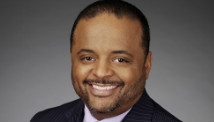 Editor's note: Roland S. Martin is a syndicated columnist and author of "The First: President Barack Obama's Road to the White House." He is a commentator for the TV One cable network and host/managing editor of its Sunday morning news show, "Washington Watch with Roland Martin."
(CNN) - It's always funny to get tweets and e-mails from followers of radio entertainer Rush Limbaugh. None of them ever actually think of checking the facts out before they begin their ignorant, vile and rambling rants. I suppose that's to be expected because all they are doing is following their feckless leader, Limbaugh.
Last week I took to Twitter to express my disgust with the racist tweets sent to Joel Ward, the Washington Capitals forward who scored the game-winning goal against the Boston Bruins in the pivotal Game 7 of their first round matchup.
Ward, who is black, should have been praised for great play. Instead, he was insulted, ridiculed and called the N-word.
As a result, I sent out the following tweets:
- "It's no shock that a black hockey player is being called nasty vicious things for a game winning goal. Only folks in denial about racism are.
- "The reality is that weak-minded punks hide behind anonymous comments on message boards AND social media.