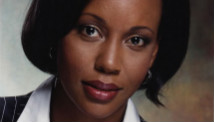 Editor's note: Maya Rockeymoore, Ph.D., is the director of Leadership for Healthy Communities, a national program of the Robert Wood Johnson Foundation, and president of Global Policy Solutions, a policy consulting firm in Washington, DC. This piece was written in association with The Op-Ed Project.
By Maya Rockeymoore, Special to CNN
(CNN) - Talking about being overweight is always an uncomfortable topic, no matter what color you are.
But when the New York Times ran an editorial, "Black women and fat", it opened a wound most of us would like to ignore.
After all, aren't there more important things to talk about when it comes to African-American women and our lives?
Why talk about the "sugar down below''as the author Alice Randall put it, when black women are facing high rates of unemployment, poverty and HIV/AIDS?
Since the publication, I have been discussing obesity at the Centers for Disease Control and Prevention's Weight of the Nation Conference and at screenings for the HBO documentary, Weight of the Nation.
Plus, I have been in more personal conversations with my friends who have confirmed how embarrassing and deeply personal the issue is in their lives.
But obesity is worth talking about for a single reason: it places our lives and those of our children at risk.
Being involved in this conversation in different venues and with different audiences over the course of a week has highlighted a fascinating paradox: public health professionals tend to focus on the structural factors that contribute to obesity, while those who do not work on this issue on a daily basis think of it in cultural and personal terms.
About four out of five black women are either overweight or obese. And studies show that African-American girls have the highest rates of obesity of any group of youth.
I was one of those women.
Despite my professional work in the area of health, I often succumbed to the convenience of eating packaged foods without looking at the ingredients, eating out frequently without knowing how my food was being prepared, and drinking beverages without paying attention to how much sugar they contained. And, I allowed environmental cues–like television commercials for burgers, fries, pizza and tacos–drive my consumption patterns.
While some may argue that black women and girls are making poor choices when it comes to food and fitness, it is important to understand that our choices are often shaped by our environment.
There is no doubt that the structural barriers are real.
Many schools have eliminated recess and physical education from their curricula for budgetary and academic reasons. In addition, for years, schools have offered unhealthy options in cafeterias and vending machines without thinking about how it contributes to weight gain of students.
How are students expected to maintain a healthy weight when the environment where they spend the majority of their time offers few healthy choices?
In many lower income communities, especially those where African-Americans are concentrated, the choices are not any better.
There are fewer food markets offering affordable fresh fruits and vegetables. And, because there are fewer places to run, walk, bike, and play, it should not be a surprise that these neighborhoods have limited opportunities for healthy eating and active living.
Studies by the Yale Rudd Center for Food Policy and Obesity have found that black children see at least 50% more fast food advertisements than white children.
Can we ignore environmental factors if our kids' preferences for unhealthy foods and drinks are being influenced by Madison Avenue?
Given the array of factors that contribute to our obesity epidemic, I can understand why the average person thinks it is simply a matter of encouraging people to make healthier choices.
After all, eating healthier while maintaining regular physical activity is the often-recommended approach for weight loss and maintenance.
While this is true, we cannot divorce personal behaviors from the environments that shape them. Context controls choice: one is not separate from the other.
I have found this in my own practice: I must be cognizant of my food choices, and conscious of environmental factors as I make social plans, travel and live my daily life.
We must commit ourselves to living our healthiest, most productive and powerful lives.
This means rejecting food and drink products that undermine our health and working with policymakers to make our schools and neighborhoods healthier places to live, work and play.
The opinions expressed in this commentary are solely those of  Maya Rockeymoore.