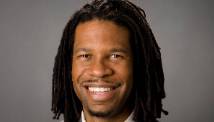 Editor's note: LZ Granderson, who writes a weekly column for CNN.com, was named journalist of the year by the National Lesbian and Gay Journalists Association and a 2011 Online Journalism Award finalist for commentary. He is a senior writer and columnist for ESPN the Magazine and ESPN.com. Follow him on Twitter: @locs_n_laughs
By LZ Granderson, CNN Contributor
(CNN) –  It feels as if I've been living a double life all of these years, and I do not want to deceive you, or myself, any longer. The burden has become too heavy, the struggle to deny my true self, too great.
In order to be free I have tell you something. I am black.
I know; I should have told you sooner. But I was afraid. After all, I've already shared with you that I am gay and well, we all know a person can't be both.
At least that's how it feels the conversation is usually framed: There's a black community and a gay community, and the two conflict and do not mix. Since President Obama voiced support for marriage equality and now the board of the NAACP has followed suit, the narrative is that the black community is trying to make room at the table for gay people.
Allow me to correct this storyline: No one is making room for gay people, gay people have always been at the table, at the forefront.
 What Obama, Jay-Z, Julian Bond, Floyd Mayweather Jr. and others have done over the past week is simply acknowledge life is not an "either/or" proposition but rather an emphatic "and." Boxes are for shoes, not people. So while compartmentalizing folks makes it easier to herd people into target groups and voting blocs, it's a gross misrepresentation of the reality of humanity.
I am gay. And I am black.