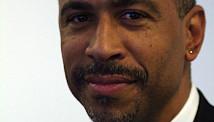 Editor's note: Pedro Noguera is a professor at New York University and director of the Metropolitan Center for Urban Education. He is editor of "Unfinished Business: Closing the Achievement Gap in Our Nation's Schools" and author of "The Trouble With Black Boys ... And Other Reflections on Race, Equity and the Future of Public Education."
By Pedro Noguera, Special to CNN
(CNN) - For the past 25 years I have been working as an educator, researcher and policy advocate. 
I am also the parent of four children who have attended public schools. 
In each of these roles I have tried to improve public education and advance the educational rights of children, particularly those who have historically been poorly served.
 
Given my background, I was pleasantly surprised by Republican presidential candidate Mitt Romney's recent assertion that education was "the civil rights issue of our time".   
Romney is only the most recent politician to connect changes in education to civil rights. Similar remarks have been made by President Obama as well.
Typically, the politicians who make such declarations link it to a call for reform.
Romney has chosen to connect his declaration to the issue of choice and vouchers. 
 
The question is: Why does Romney believe that simply by promoting school choice the problems that plague public education in America will go away?
Perhaps Romney is not aware that choice and voucher systems have actually been around for a while, and in the cities that have adopted these policies, the challenges confronting American education have not gone away. 
Milwaukee has the oldest voucher system in the nation, yet studies have shown that students in the voucher schools perform no better than children in the public schools. 
The same is true for the other cities that have adopted choice plans that give parents the ability to apply for admission to a wide variety of public and charter schools. 
 
Consistently, research has found that choice has not increased access to high quality schools for most poor children, and while some charter schools provide access to a better education, more often they are no better than traditional public schools, and sometimes even worse, in improving academic outcomes.
If the evidence in support of choice is not there, why has Romney embraced it as the central element of his education platform? 
 
There are probably several reasons for this. 
For one, the idea of choice is appealing to many Americans. 
 
We like the freedom to exercise our options, be it in selecting our brand of coffee, or the shows we watch. 
 
Choice is also appealing to those who believe that competition will lead to more widespread improvements in schools, forcing schools to get better or risk losing children and going out of business. 
 
However, the choice systems that exist in several of our major cities have already shown that without access to reliable information on school quality, and without transportation to get to high quality schools, choice is illusory, and not an effective means to guarantee access to good schools. 
More importantly, in most choice systems, it is not the parents who choose, but the schools. 
 Many charter schools have found ways to under-enroll the most disadvantaged students.  Just because a low-income parent shows up at a highly rated private school with a voucher, there is no guarantee their child will get access. 
This is of course the big problem with choice and vouchers, a problem that advocates consistently ignore. 
 
Rather than leveling the playing field and increasing access to good schools, choice systems have the effect of concentrating the neediest children in the most troubled schools. 
 A study by the Massachusetts-based firm Parthenon (2010) on secondary schools in New York found that choice had resulted in the concentration of the most disadvantaged students in the city's failing schools.
 
Choice only works if there are plenty of good choices available. 
 In communities where poor children are concentrated, that is simply not the case. 
If Romney is truly interested in advancing the educational rights of American children, he might consider promoting evidence-based initiatives: providing incentives for teachers with a track record of effectiveness to work in "high need" schools; supporting the development of magnet schools like those that have been created in suburban communities in Connecticut that are not only more racially integrated, but also higher performing; expanding access to quality, early childhood education, because a vast body of research shows it to be a cost-effective means to close the preparation gap between poor and middle-class children; and support the development of full service schools like those that have been created by the Children's Aid Society in New York that make it possible for schools to respond to some of the social needs of children that affect learning.
Of course, such initiatives will cost money, and while Romney and his allies may be opposed to increasing spending on public education, they should recognize that continued failure is even more expensive
 
Poverty and inequality are the biggest challenges facing American education today. 
 
We should be outraged that we spend four and even five times as much to incarcerate juveniles than we do to educate them, and they should be encouraged to know that education is the most effective means we have to deter criminal behavior and break the cycle of poverty.
Romney's past experience in investments should lead him to look for sound investment opportunities in education. 
 
Choice may not be one of them, but there are plenty of other possibilities for using education to advance civil rights in the 21st century.
The opinions expressed are solely those of Pedro Noguera.