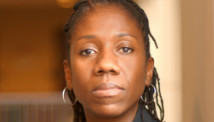 Editor's note: Sherrilyn A. Ifill is a professor at the University of Maryland School of Law and the chairwoman of the U.S. Programs Board of the Open Society Foundations. She is the author of "On the Courthouse Lawn: Confronting the Legacy of Lynching in the Twenty-first Century."
By Sherrilyn A. Ifill, Special to CNN
(CNN) - The United States has a dignity problem. The concept of dignity is recognized by law in countries all over the world. It is a cornerstone of both international humanitarian law, which governs the treatment of prisoners of war, and international human rights law.
But it has little power in American jurisprudence. A robust recognition and protection of dignity is precisely what we need, particularly if we are to understand how racism has broken its tether and become enshrined again in state laws and policies across the United States.
Take racial profiling - the single most explicit manifestation of racial prejudice in the United States today. Nearly 700,000 individuals a year are subject to the brutal indignity of the New York Police Department's stop-and-frisk policy. The vast majority are young African-American and Latino men. In a New York Times op-ed in December, 23-year-old Nicholas Peart heart-rendingly described his initiation into the world of stop-and-frisk beginning at age 14. This rite of passage for innocent young black men requires submitting without complaint or question to being harassed and targeted by the police. Even showing an "attitude" can escalate encounters into an arrest or even death.
Stop-and-frisk policing is only one aspect of the national indignity of racial profiling. Police surveillance of law-abiding Muslims (here again the New York police play a central role) and the pulling over of motorists for "driving while black" are two others. Rather than recognize how these practices strike at our bedrock constitutional rights to due process, equal protection and freedom from unreasonable searches, the Supreme Court recently doubled down on racial profiling. It decided that the discretion of police may be complemented by the discretion of jail officials to strip-search the 14 million Americans who are arrested each year.