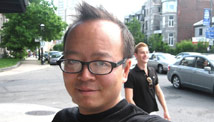 Editor's Note: Jeff Yang writes the column Tao Jones for the Wall Street Journal Online. He is a regular contributor to WNYC radio, blogging for "The Brian Lehrer Show," and appears weekly on "The Takeaway." He previously wrote the Asian Pop column for the San Francisco Chronicle and was founder and publisher of A magazine. He tweets @originalspin.
by Jeff Yang, Special to CNN
This week, the blogosphere churned with a lurid rumor that highlighted the ugly misogyny that often colors popular culture's treatment of Asian women.
Top Chinese actress Zhang Ziyi, best known in the U.S. for her breakout role in Ang Lee's martial arts epic "Crouching Tiger, Hidden Dragon," was rumored to be under investigation by the Chinese government for providing disgraced Politburo member Bo Xilai and other high-ranking Communist Party officials with sexual favors in exchange for cash.
Lots of cash: The anonymous sources behind the reports claimed that the price they each paid for her company was $1.5 million a night.
The rumors, which spread across Asia before leaping the Pacific into U.S. gossip farms like Perez Hilton, Oh No They Didn't and the Superficial on Thursday, were instantly and hotly denied by Zhang, who at a news conference called them "complete libel and defamation from beginning to end" and declared that she had met with her lawyers to bring harsh reprisals on Boxun.com, the U.S.-based Chinese-language site where the anonymous claims had originated.
"No matter what it takes, I will be taking legal action and pursuing this matter till the end," she said.