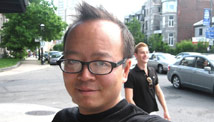 Editor's Note: Jeff Yang writes the column Tao Jones for the Wall Street Journal Online. He is a regular contributor to WNYC radio, blogging for "The Brian Lehrer Show," and appears weekly on "The Takeaway." He previously wrote the Asian Pop column for the San Francisco Chronicle and was founder and publisher of A magazine. He tweets @originalspin.
by Jeff Yang, Special to CNN
This week, the blogosphere churned with a lurid rumor that highlighted the ugly misogyny that often colors popular culture's treatment of Asian women.
Top Chinese actress Zhang Ziyi, best known in the U.S. for her breakout role in Ang Lee's martial arts epic "Crouching Tiger, Hidden Dragon," was rumored to be under investigation by the Chinese government for providing disgraced Politburo member Bo Xilai and other high-ranking Communist Party officials with sexual favors in exchange for cash.
Lots of cash: The anonymous sources behind the reports claimed that the price they each paid for her company was $1.5 million a night.
The rumors, which spread across Asia before leaping the Pacific into U.S. gossip farms like Perez Hilton, Oh No They Didn't and the Superficial on Thursday, were instantly and hotly denied by Zhang, who at a news conference called them "complete libel and defamation from beginning to end" and declared that she had met with her lawyers to bring harsh reprisals on Boxun.com, the U.S.-based Chinese-language site where the anonymous claims had originated.
"No matter what it takes, I will be taking legal action and pursuing this matter till the end," she said.
Even if she's successful in her lawsuit, as she's likely to be, a stain has been placed on her reputation that can't easily be erased. A scan of American sites that picked up the story shows a corrosive and disgusting array of hateful reactions: limericks rhyming Zhang's last name with slang terms for genitalia, references to cinematic Asian streetwalkers (from Suzie Wong to Full Metal Jacket's infamous "me love you long time" girl) and repeated snark about Zhang "selling her mizuage" – a reference to her star turn in 2005's blockbuster adaptation of the book "Memoirs of a Geisha."
In it, Zhang plays Chiyo, a young girl who's been pressed into service as a maiko, an apprentice learning the geisha's arts, which include flirtation, conversation and performance. "We create another secret world, a place only of beauty," says Mameha, the house's senior geisha.
But the mizuage ritual, the film's most memorable scene, has no pretentions to being cultured or polite. The ceremony, which marks a maiko's ascension to full geisha, is the auction of Chiyo's virginity to a wealthy patron. When Chiyo's price is finally revealed, Mameha declares that she has "made history: No mizuage has ever been sold for more, not even mine!"
It's likely that the unknown individual who posted the attacks on Zhang was inspired by the film, which earned nearly $160 million around the world. But the speed with which the rumor propagated across the Internet, first in Asia and then the U.S., makes it clear that the ugliest aspect of the incident wasn't the original accusations, it's the ease with which people accepted them as truth.
Zhang noted that she usually didn't publicly address "gossip and rumors," given that invented celebrity scandals are a notorious staple of the Chinese-language press, but in this case, she felt moved to respond because "this incident is damaging not only to me but to others as well. I've seen online comments saying that 'this is the way it is in the film business.' (So) this has not only hurt me personally, it has also blackened the film industry."
And not just the film industry. Many comment threads have gone from suggesting that all Asian entertainers are available for a price to maintaining, tacitly or overtly, that all Asian women are open to such "transactions" – given the right offer of expensive gifts, luxury brands … or citizenship.
UC-Berkeley professor Elaine Kim's documentary "Slaying the Dragon: Reloaded" details the frictionless path by which pop fantasy transitions into real-world perception, with troubling real-world consequences. And, as the documentary points out, the same slippage that conflates media fictions with flesh-and-blood people also imposes imagery emerging out of the "exotic East" on Asian women in the West.
"Asian women as prostitutes – the oversexualization of our image – we have to live with that history," DeAnza College Asian-American studies professor Christine Chai says in the film, which goes on to point out that virtually every Asian-American woman, regardless of how independent, educated, successful and strong she might be, has at one point or another found herself uncomfortably boxed into a stereotype by those whose primary exposure to "Asian" culture comes from cinematic blockbusters and pulp bestsellers.
The price can go far beyond discomfort. DePaul law professor Sumi K. Cho has linked the Asian-woman-as-prostitute stereotype to what she calls "racialized sexual harassment," professional exploitation rooted in the expectation that Asian women are culturally amenable to sexual advances.
And it is not just in the context of the workplace.  Other studies have connected these stereotypes to increased threats of abuse at home and in intimate settings.
The Asian & Pacific Islander Institute on Domestic Violence reports that, depending on ethnic community, 41 to 60 percent of Asian American women report having experienced physical or sexual violence from an intimate partner at some point during their lifetime: a much higher prevalence rate than for whites (21.3%), African Americans (26.3%) or Hispanics (21.2%).
Responding to a barrage of questions at her news conference in Haiko, China, where she was named China's media ambassador at the 12th China Film Media Awards, Zhang showed the decidedly un-geisha-like fire and defiance she's demonstrated in most of her other screen roles. "(I) know I'm not alone in this fight," she said. "I won't let this type of thing affect my passion for my work. … I often have to deal with these things that could derail me, but I am as persevering as ever."
A decidedly un-geisha-like statement – and one with which many Asian-American women might empathize.

The opinions expressed in this commentary are solely those of Jeff Yang.