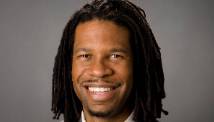 Editor's note: LZ Granderson, who writes a weekly column for CNN.com, was named journalist of the year by the National Lesbian and Gay Journalists Association and a 2011 Online Journalism Award finalist for commentary. He is a senior writer and columnist for ESPN the Magazine and ESPN.com. Follow him on Twitter: @locs_n_laughs
By LZ Granderson, CNN Contributor
(CNN) - Over the past year we've heard a lot about class warfare, the "Buffett Rule" and the tax code and so on. But if you want to see a blatant form of poor vs. rich, walk into a grocery store. Here we are forced to decide between what's good for our kids and what we can afford to feed them.
Ground beef that is 80/20 is fattier but cheaper than 90/10. Ground turkey breast is leaner than the other two but is usually the more expensive. And many of us can't even begin to think about free-range chicken and organic produce - food without pesticides and antibiotics that'll cost you a second mortgage in no time at all.
Recently Michelle Obama's campaign to get healthier foods into poor neighborhoods came under new scrutiny because two studies found her notion of "food deserts" - poor urban neighborhoods where access to fresh fruits and vegetables are supposedly nonexistent - doesn't quite jibe with the research. The studies have even found that there isn't a relationship between the type of food offered in neighborhoods and obesity among the children living there.
That may be true.
But it is also true that The American Journal of Clinical Nutrition recently published a study that found $1 could buy 1,200 calories of potato chips but just 250 calories of vegetables and 170 calories of fresh fruit. And it is also true that Mississippi, the poorest state in the country, is also the fattest.