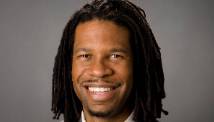 Editor's note: LZ Granderson, who writes a weekly column for CNN.com, was named journalist of the year by the National Lesbian and Gay Journalists Association and a 2011 Online Journalism Award finalist for commentary. He is a senior writer and columnist for ESPN the Magazine and ESPN.com. Follow him on Twitter: @locs_n_laughs
By LZ Granderson, CNN Contributor
(CNN) - My heart was pounding so hard, it felt as if it were trying to break free from my body.
I couldn't breathe.
I felt dizzy and feverish, and my eyes stung from all of the sweat dripping into them.
And as I was desperately trying to figure out what was happening to me, I suddenly had this debilitating thought: My God, my son is trying to kill me.
Why else would he be running so fast? And so far?
When my 15-year-old asked if I would go jogging with him, I didn't think anything of it. We've worked out together many times before, and though it's been a while since we went running, I play basketball and tennis every week, so I'm in great shape ... for a guy my age.
But something unexpected happened somewhere between me laying him down in his bassinet and me being on the cusp of lying down on the sidewalk I was running on: We got older.