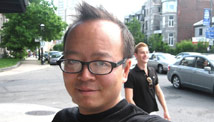 Editor's Note: Jeff Yang writes the column Tao Jones for the Wall Street Journal Online. He is a regular contributor to WNYC radio, blogging for "The Brian Lehrer Show," and appears weekly on "The Takeaway." He previously wrote the Asian Pop column for the San Francisco Chronicle and was founder and publisher of A magazine. He tweets @originalspin.
by Jeff Yang, Special to CNN
He was an unlikely symbol in an uncertain time, a victim who found himself transformed into an accidental icon of institutionalized racism, a private and wary individual who was reluctantly dragged into the world's biggest spotlight. But Rodney King's untimely death Sunday at the age of 47 — 20 years after his case sparked a conflagration that enveloped Los Angeles and shook its institutions to the core — has prompted many to muse on his most famous quote, given at a news conference called three days after the announcement that the officers who beat him mercilessly on camera had been found not guilty: "People, I just want to say, can we all get along? Can we get along?"
King's statement was a desperate plea for an end to the unrest and destruction whose toll would include 55 deaths, as many as 2,000 injuries and nearly a billion dollars in property damage; it was a rhetorical question that no more required an answer than a muttered "What's your problem?" requires an answer.
Timeline: Rodney King from 1991 to 2012
And yet, two decades later, it's a question that deserves to be asked in truth: Can we all get along? Can we?
It's the word "all" that made King's question inadvertently profound and more relevant than ever today. The '90s were the era in which the dialogue on race went from bipolar to multipolar, from a predominantly black-white thing to a complicated snarl of relations between and among different communities. With this radicalization of the race conversation came a swing of the media spotlight toward nonwhite America's "intramural" tensions, particularly those between Asian and black communities.
In the runup to the announcement of the King verdict, media made frequent parallels between King's beating and a tragedy that had occurred just 13 days later: the shooting of 15-year-old Latasha Harlins by Korean store owner Soon Ja Du. Both events had been captured on video; the assault on King was documented by a camera-wielding George Holliday, who lived nearby, while the Harlins shooting was recorded on the store's CCTV security system. Footage of the two incidents ran as wallpaper on local and national news, often virtually back to back — essentially conflating them in the minds of many viewers.
As a result, it isn't surprising that during the six-day outpouring of rage after the acquittal of King's assailants, Korean-Americans became the primary targets for looting and assault.  Their stores and homes were conveniently close by, while the white police officers resided in suburban Simi Valley, an hour outside the city. That these establishments would bear the brunt of the violence was guaranteed by the actions of the Los Angeles Police Department, which pulled back and abandoned the low-income neighborhoods around South Central Los Angeles and established a firewall to protect the mostly white middle- and upper-middle-class neighborhoods beyond them instead.
Rodney King looks back without anger
Much of the billion dollars in property damage that occurred in the turmoil was committed against Korean-owned businesses. Meanwhile, as if to underscore the black-versus-Korean narrative, news media covering the riots frequently cut between footage of rifle-bearing Korean storeowners on the rooftops of their establishments and "wielding" black and Hispanic looters, symbolically framing the events of April 29 through May 4, 1992, as a war between savage nonwhite tribes.
If there was a silver lining to the events of Sa-I-Gu (Korean for "four-two-nine," denoting the day the riots erupted), it's that they forced black and Asian leaders to engage one another in constructive conversation, not just in Los Angeles but across the nation. The patent injustice of the behavior by media and law enforcement during the unrest spoke to the need for a fundamental rethinking of urban racial dynamics. By acting in concert, communities sharing geographic proximity and economic interests could exert maximum pressure on the political establishment for reform of municipal policies and fairer resource allocation. Disunited, these communities were vulnerable to divide-and-conquer strategies and "containment" tactics.
Since then, there has been enormous progress in bringing down walls between urban multicultural populations. As noted this month when the Center for the Study of Los Angeles released its quinquennial survey of the state of the municipality, 69% of Angelenos believe that "some or a lot of progress" has been made in race relations, up from 49% in 1997, the group's first poll after the riots. Two-thirds of blacks and two-thirds of Asians now believe that ethnic divides have narrowed, with different racial groups now getting along "very or somewhat well." All this is despite the economic downturn that still overshadows the city and the nation at large, and despite active attempts by nativists to direct American anger toward immigrant-heavy communities.
There's a real sense that this silo-breaking is being influenced from the top — the very top. In 2008, I wrote a tongue-in-cheek column for the San Francisco Chronicle asking whether the first black president was also the first Asian-American president. And indeed, in Barack Obama, who received more than two-thirds of the nation's Asian American vote, the nation has a sterling example of a man who has moved fluidly between black and Asian communities throughout his life.
Born and raised in Hawaii, the one state in the Union that is majority Asian-American, with a few childhood years spent living in Indonesia to boot, the president counted Asian-Americans as among his closest friends as a student attending Occidental College in Los Angeles and Columbia University in New York. Asian-Americans have also been part of his inner circle throughout his political career — and, as president, he's appointed more Asian-Americans to senior judiciary and Cabinet-level executive positions than any other occupant of the Oval Office.
But the reach and influence of the presidency, though substantial, isn't infinite. Right in the White House's own backyard, we've seen the reemergence of rhetoric that sounds like it was sampled from the 1990s — from a persistent political survivor of that era.
In April, D.C. City Council Member (and former Mayor) Marion Barry was quoted as saying, "We've got to do something about these Asians coming in, opening up businesses, those dirty shops. They ought to go." Less than a month later, Barry attacked the hiring of Asian-American professionals by medical establishments in his district. "It's so bad that if you go to the hospital now, you find a number of immigrants who are nurses, particularly from the Philippines," he said. "Let's grow our own teachers. Let's grow our own nurses — so that we don't have to be scrounging around … having to hire people from somewhere else."
Though some Asian-Americans reacted to the comments with outrage, the most effective response was one that emulated the words of an earlier man named King: "Darkness cannot drive out darkness; only light can do that. Hate cannot drive out hate; only love can do that," the Rev. Martin Luther King Jr. wrote.
Last month, Barry underwent emergency hospitalization after experiencing a potentially fatal blood clot while attending a retailers convention in Las Vegas. He was treated — with professionalism and care — by a medical team that included a number of Filipino-Americans. "They have been very wonderful and gave me the opportunity to clear things up," Barry told Tom Sherwood of Washington's NBC affiliate. Barry subsequently tweeted a general apology, reflecting his change of heart. "I also thank outstanding medical staff, incl. kind professional Filipino staff," he wrote. "I stand corrected; I truly didn't mean 2 hurt or offend."
It takes time, effort and patience. But if there's anything that the Barry incidents show, it's that given a commitment to respond to ignorance with education, suffering with sacrifice, hate with love, the answer to Rodney King's 20-year-old question — Can we all get along? — is the slogan that our Asian-American president rode to victory in 2008: Yes, we can.
The opinions expressed in this commentary are solely those of Jeff Yang.