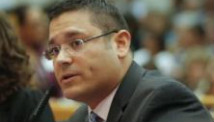 Editor's Note: Matt A. Barreto is an associate professor of political science and an adjunct professor of law at the University of Washington. He is co-founder of the polling and research firm Latino Decisions and author of the book "Ethnic Cues: The Role of Shared Ethnicity in Latino Political Participation."
Today, the U.S. Supreme Court issued a ruling on Arizona's controversial SB 1070 anti-immigration law that some observers are calling a "split decision" or even a victory for the federal government over Arizona.
Supreme Court mostly rejects Arizona immigration law; gov says 'heart' remains
Though the decision did leave open the possibility of someone challenging how law enforcement officers implement the provision that the court upheld, for the Latino community, today is not "split" or a "victory" but rather a very serious blow to civil and human rights.
For immigrants and opponents, court's ruling hits their real lives
In May 2010, after the Arizona law was signed by Republican Gov. Jan Brewer, a Latino Decisions poll found that 85% of Latino registered voters in Arizona believed that it would result in U.S. citizen Latinos being racially profiled and stopped by the police.
Today, the court has created an opening that could allow those fears to come true.
This is all happening in an election year, in which many pundits have called Latino voters a crucial bloc that could influence who wins the presidential election.
So, what are the political implications of the court's ruling?
In a poll of Latino voters in crucial battleground states, Latino Decisions and America's Voice found that  a majority of Latinos are concerned about a growing anti-Latino environment, which was strongest in Arizona and Nevada, two states marked by anti-immigrant politics during the 2010 election. The poll had a margin of error of +/- 2.1% points in the overall sample, and +/- 4.9% points for each individual state.
Even though the Arizona law claims to target only undocumented immigrants, survey results show that a clear majority of U.S. citizen Latinos, who are registered to vote, are also concerned about the implications of the law.
Polling data consistently find that a large majority of Latinos strongly oppose giving state and local police the authority to check immigration status.
This month, a Latino Decisions survey with Texas A&M political science professors Joseph Ura and Francisco Pedraza found that 71% of Latinos would be opposed to the court upholding police intervention in immigration checks. A clear majority of Latino voters across the U.S. stand opposed to SB 1070. The margin of error was +/-4.4% points.
While some politicians have attempted to segregate "legal" and "illegal" immigrants in directing their hostilities towards illegal immigrants, the newest data from the Latino Decisions/America's Voice poll suggest that no such dichotomy exists in how those distinctions are heard.
When asked whether respondents personally know someone who is undocumented, 55% of Latino registered voters said yes – including 11% who said someone in their family is undocumented. Looking to the individual battleground states, we find very large percentages of Latino voters who are closely acquainted with undocumented immigrants.
In Nevada, 74% say they know an undocumented immigrant, and in Arizona, it's 68%. Beyond merely being acquainted with undocumented immigrants, 30% of Latino registered voters say they know of a person or family who has faced detention or deportation for immigration reasons. In Nevada, 41% know someone who has faced immigration proceedings.
Beyond concerns over racial profiling or creating an unfriendly atmosphere for Latinos, a very large number of Latino voters have a direct connection to people affected by Arizona's law.
Given concerns over the court decision on SB 1070 and efforts by Democrats and Republicans to walk a tightrope on state immigration laws in places like Arizona and Alabama, a looming question is how Latinos view the two political parties in terms of reaching out or advocating on behalf of Latino issues.
Overall, we found that 50% said the Democratic Party is currently doing a good job of reaching out to Latinos, while 30% said the Democrats are generally ignoring Latinos, and 6% said they were being hostile toward Latino issues.
When evaluating the Republican Party, 15% said the GOP is doing a good job of Hispanic outreach, compared with 42% who said Republicans mostly ignore Latinos and 31% who think Republicans are hostile towards Latinos.
While the Democrats perform better than Republicans in perceptions of outreach to Hispanics, Democrats are performing well in the minds of only half of all Latino registered voters.
For Republicans, the outlook is more worrisome, with 73% of Latino voters saying the Republicans are either ignoring or being hostile towards Latinos. Given this current rating and prior Republican statements in favor of SB 1070, it will be difficult to change this perception in the short term.
Already, Republican candidate Mitt Romney has said that immigration laws in Arizona are a model for the nation and that as president, he would drop the lawsuit against Arizona. Today, he went further, saying that each state has a right and duty to secure our borders, once again tying xenophobic rhetoric of "security" to a law that allows state police to detain and question anyone in their custody they suspect is undocumented.
Polling by Latino Decisions and America's Voice shows Romney with a serious deficit among Latinos, especially in battleground states like Arizona, where he attracts just 18% of the Latino vote, compared with 74% for President Obama.
The Supreme Court decision on SB 1070 and the continued discussion about the role that states should play in immigration enforcement are going to be part of the campaign messaging to Latino voters.
Latinos will be paying close attention to what candidates say and what their records indicate.
The opinions expressed in this article are solely those of Matt A. Barreto.