by Melissa Abbey, CNN
The Pew Research Center recently released a comprehensive study profiling Asian-Americans in the United States and found them to be more highly educated and well-paid than any other immigrant group in the country.
Asians are also now coming to the United States in greater numbers than Hispanics and make up about 6% of the population.
The study is overwhelmingly positive - most Asian-Americans have at least a college degree and consider themselves hard-working - but it also showed immense diversity among the group.
There are more than 17 million Asian-Americans, and each has a unique story. Here, three immigrant families in the Atlanta area share a slice of their lives.
High expectations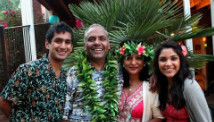 Kaushal Tripathi settles into a plush leather couch, scanning the two-story lofted ceiling and a grand, free-standing stairway in his living room. Tulips adorn a pair of large vases.
People say they don't care about money, he says, sipping hot chai muted with milk.
"But when they get into real life, money matters."
That's why he and his wife, Neelam, have pushed their two children to excel in school.
Tripathi says he used to sit down with his children after school to discuss what they learned and how they were going to succeed.
Sometimes, Sarung, now 21 years old, felt stifled that he couldn't talk about anything else with his parents - save school.
"At home I felt like I couldn't talk about dating, like I couldn't talk about anything that could possibly be hindering me from doing well in school," he says.
"The only things I would talk about with my parents were school and sort of excelling."
But the Tripathis don't think they've pushed their children nearly as hard as some Indian parents. The Pew study found that many Indian-Americans (43%) say parents from their country of origin put too much pressure on their children to do well in school. A plurality (49%) say the amount of pressure is just right.
But the perceived "right" amount of pressure varies across ethnicities. A majority (62%) of Asian-American parents say that American parents do not put enough pressure on their children.
Neelam Tripathi says Indian parents tend to fall at the extreme end of the spectrum. She knows other parents who insist their children become doctors or lawyers.
"If you can't be a doctor then you'd better be a lawyer," she says. "And if you're not a lawyer, well, after that everything is just, kind of, whatever."
Kaushal Tripathi has one goal: his kids must be successful. And that means affluent.
He says a career should be about earning money to pay for hobbies and fun. A history buff can read for leisure, an artist can sketch in his or her free time. These passions are suited for hobbies, he says - not careers.
His wife agrees.
"Kaushal would always tell Sarung, 'There are a lot of things that you might want to do, so choose a career that will bring you enough money so you can do whatever you want later in your life,'" Neelam Tripathi says.
Sarung, a student at Georgia Tech, followed the course to become a doctor because he thought it's what his parents wanted, finishing all the required pre-med classes before admitting to his mother that just walking into a hospital made him nauseous.
She tells the story with a hint of disappointment, but says it's OK because she knows he tried.
The Tripathis' daughter, Anjali, 16, says she feels less pressure than her brother. She wants to be a journalist.
Though she thinks her parents support her, she often gets looks of disapproval from other Indians.
"In the end, as long as I'm happy and I'm able to support myself, I think [my parents] are fine with whatever I choose to do," she says.
Her mother smiles as her daughter talks about her dreams and then picks her words carefully.
"The thing with the Indian parents - it seems like we're just expecting from our kids, but we're listening to our kids, too," she says.
Sacrificial love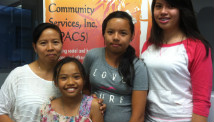 Phuc Ngoc Tran stares at her fingers, fidgeting. Even her youngest child, 8-year-old Nicky, is still and silent, waiting.
Her eyes cast downward, she speaks softly in Vietnamese to the translator.
"It is a sad story," she begins.
Tran moved to the Atlanta area in September 1994, when she was about 21. She does not know her exact age.
Her father had spent over a decade in prison, jailed for his involvement with the old government, before the Communists took power.  She arrived here through a U.S. program designed to relocate refugees after the Vietnam War ended in 1975.
Leaving was difficult, but she knew life would be safer for her and her parents in the United States.
"The life of a person that had parents working for the old government was extremely hard," she says. "Anyone that had to do with the old government, they treated you like a disease."
The Pew study pointed out that 15% of Vietnamese and Koreans in the United States live in poverty. The study also found that being a good parent is "one of the most important things" to 67% of Asian-Americans.
Tran stands as testament to both.
"I live here, but my exposure to society is very minimal," she says. "I go to the market, I get what I want and I go back to my house. I live in my little apartment and surrounding community that I'm comfortable with."
She married in 1995, but divorced her husband in 2003, when she was three months pregnant with Nicky.
She has folded newspapers and embroidered hats. For the past few years, she has earned money by providing child care for neighbors.
"I don't have a job right now because if I spend money to have day care for my children it would cost more than I would make," she says, a sadness befalling her smile.
"It's barely enough," she says. "But regardless of how much I make it's more important to spend time with my kids."
Her eldest daughter, Nina, is 15 and old enough to care for her younger sisters, but the responsibility would preclude her from attending an after-school program in her neighborhood - a program that has inspired her to dream.
"I am determined to go to college," she says. "I want to go to medical school."
Judy Yi interjects. Yi is the programs director at the Center for Pan Asian Community Services, the organization that hosts Nina's after-school program.
"Five to seven years ago our center had done a focus group on the high-schoolers," she says. "A lot of the highest aspirations were actually to work at Ranch 99, which is a local Asian mart. They didn't see anything beyond that."
The Pew study found that 26% of Vietnamese-American adults have a bachelor's degree, as compared to 49% of Asian-Americans overall.
Yi says over the years she has seen kids involved with the after-school program start to think bigger.
"To hear her say, 'I want to be a medical doctor,' just gives me chills," she says.
Dung Nguyen translates Yi's words to Tran. She smiles broadly and points toward a blue folder on the table in front of her. Inside are report cards and awards her children have received at school.
"I might not have a lot compared to other people," she says. "However, I am very proud of my children."
Tran says she hopes that her children are not only successful, but happy and at home in America, though she will always long for Vietnam.
"To me, whatever happened, it's not an issue," she says.
She looks at the girls, tears in her eyes.
She lives for her children, and they're more than enough.
Only one life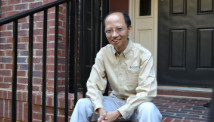 Li Zheng didn't suspect he would acclimate so much to America that his homeland would become foreign.
"I just feel like here is my life and China is like a dream land," he says. "It's something you think about and have a good feeling, but it's gone already."
China feels distant, but still flows through his blood. Each day brings with it an element of identity crisis: Chinese or American?
"You always get stuck in between," he says.
He still remembers crowding around a 9-inch black-and-white television set in 1979 with family and friends in FuAn City, China.  He was mesmerized by a news report of Deng Xiaoping, a leading Chinese politician, grinning in a cowboy hat on a historic visit to the United States.
It was the first time he saw America portrayed in a positive light in the Chinese news media - and not as an imperial devil.
With those images in mind, young Chinese flocked to the United States once the Communist nation loosened its borders, he says. In 1991, his aunt and uncle paid for him to travel to America, where he became one of the early self-supported study abroad students from China.
Zheng has lived in America for twenty-one years, and Georgia is now home for he and his family.
But, his wife, Yi Jiang, says Zheng longs for China. When he went home for the first time after five years in the United States, he started visiting more often. She wonders if he hopes to return for good some day. She has no desire to do so.
It is too rigid, she says, and makes her academic work - she develops biological models at Georgia State University - more difficult.
But Zheng says Chinese people have a more open mind than Americans.
"There are a lot of sensitive issues like race or color that you don't want to touch in this country," he says. "Here things are black and white, which causes trouble. Chinese handle grey better."
Zheng says he doesn't know if making a life in America was the right decision, but that there is no point in dwelling on the past.
"Life is a one-path journey," he says. "No one has the luxury of trying out more than one alternative."