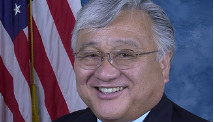 Editor's note: Congressman Mike Honda represents Silicon Valley, California, in Congress. He is an educator of more than 30 years, the author of the landmark Commission on Equity and Excellence in Education now housed in the Department of Education and the Chair of the Congressional Anti-Bully Caucus.
By Mike Honda, Special to CNN
(CNN) - My experience with bullying began with a presidential order.
At the height of World War II, on February 19, 1942, President Franklin D. Roosevelt signed Executive Order 9066, incarcerating more than 120,000 Japanese Americans. My family and I were imprisoned behind barbed wire at the Amache internment camp in southeast Colorado. I was less than a year old.
Sadly, the internment of Japanese Americans spread fear and intolerance far beyond the wire and towers of the camps. After the war, during my early years of public school, I was often confronted and insulted because of my appearance and ethnic origin. As a result, I struggled as a student. I was shy to speak up. I lacked self-esteem.
In the 70 years since internment, our nation has made great leaps in providing reparations for the internment and ostracizing of Japanese Americans. But the mistreatment of people thought of as "outsiders" or "different" is a problem that has not gone away.
Today the health, safety, competitiveness and moral fiber of America is threatened by an epidemic that affects more than 13 million children each year.