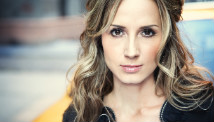 Editor's Note: Singer-songwriter Chely Wright is the author of the autobiographical book "Like Me." Her coming out process was filmed in the documentary "Wish Me Away." This is an edited version of her conversation with CNN about Anderson Cooper's announcement, why she came out, and what happened after.
by Chely Wright, Special to CNN
I'm happy about Anderson (coming out) and that he didn't allow himself to be a whisper.
It's inspiring.
I hid for 16 years of my career.
It became worth it to hide - until it is not worth it anymore.
Video: Chely Wright on coming out as a lesbian
I was afraid.
Singing is not my hobby, it is my job. I was afraid of losing my livelihood.
I hit my rock bottom in 2006, when I realized no one really knew me. I had very detached relationships with human beings, and no one really knew much about me.
That is how it is when you are burdened with fear - you never know.
Love doesn't grow in a dark closet. It can happen, but it won't survive.
I made the decision to come out in 2007. My life got easier the moment I decided to come out – I knew that freedom was on its way.
I had steeled myself as best I could for negative fallout. I had a feeling that some tour dates would be cancelled and records would not be sold.
From the day that I officially came out, on May 4, 2010, many people that had been fans aren't anymore. My mother did not take it well at all and we don't speak, and that was a cost.
Many people are very misinformed about people like me. I am a Christian. I don't drink, I don't do drugs. People had it in their head that there is no one gay in country music.
LGBT is a unique minority in which we have to identify. Straight allies have to be out too.
I am a storyteller by nature and songwriter, and I thought it would be a tremendous honor to advocate for LGBT youth in particular.
My whole objective in coming out was to challenge the stereotypes.
When you are a public person with public capital, I say those who are safe and able should look themselves in the mirror and say, can I make a difference? There is no definitive indictment when they don't come out, but I know something is going on, something is keeping them from coming out - when you know that by standing up and saying "I'm gay," it might make (some young kids) feel less alone.
I would like to see those young people enjoy the very diverse communities that America provides.
Change and equality only happens when people stand up and identify.
No civil rights movement has ever been progressed on a whisper.
The opinions expressed in this commentary are solely those of Chely Wright.