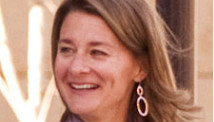 Editor's note: Melinda Gates is co-chair of the Bill & Melinda Gates Foundation.
By Melinda Gates, Special to CNN
(CNN) - The vast majority of women in the United States use birth control. Some of us may even consider it a minor annoyance. Sometimes we forget to take our pills. The side effects can be painful. But we put up with it because it's so important to have the power to determine our future.
I didn't fully appreciate how much contraceptives changed my life because I never lacked access to them.
That is, I didn't fully appreciate them until I got involved in global health and learned that hundreds of millions of women and girls in sub-Saharan Africa and South Asia don't have access to contraceptives. The lack of birth control is more than a minor annoyance. It can be a significant barrier to a better life. When I learned what many women in poor countries faced, I asked myself: What would my life have been like if I hadn't been able to use birth control?
This week at the London Summit on Family Planning, a partnership of national governments from developing and developed countries, foundations, the private sector and NGOs is launching a groundbreaking effort to make sure no woman has to ask herself that question. Our goal is to make modern contraceptives and family planning information and services available to an additional 120 million women and girls in the world's poorest countries over the next eight years.