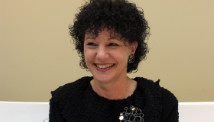 Editor's note: Freada Kapor Klein is a venture partner at Kapor Capital , the founder of the Level Playing Field Institute and author of "Giving Notice: Why the Best and the Brightest Leave the Workplace and How You Can Help Them Stay."  She says her career has been devoted to helping create fair workplaces, beginning with co-founding the first group on sexual harassment in the United States in 1976.
By Freada Kapor Klein, Special to CNN
(CNN) - I look forward to the day when a pregnant engineer becoming CEO of a major tech company isn't news.
Wouldn't it be great if the hottest deals were done in the nursing mothers' lounge as often as they were done on the golf course?
If this possibility strikes us as odd, perhaps it's a sign that Silicon Valley has not yet achieved the perfect meritocracy it claims to be.
Opinion: Silicon Valley is no meritocracy for minorities
Despite the best intentions, Silicon Valley bears little resemblance to the America it depends on for talent and customers.
This gap between aspiration and achievement is worth serious exploration.
Recently, I was part of a panel with Marissa Mayer, the new CEO of Yahoo, and Angela Benton, the founder of NewMe Accelerator who was profiled on CNN's Black in America 4: "Silicon Valley, the New Promised Land."
If Mayer can have it all, can you?
Their stories reflected two different paths to success.
When Mayer graduated from Stanford University, she had 20 job offers and constructed a spreadsheet of the relative advantages and disadvantages of each.
Benton worried about how to take care of her three daughters as a single mother.
Their pioneering accomplishments ought to be celebrated, while we also look for business models that allow both to thrive.
For all the decades of corporate approaches to balancing work/family, few ask whether women from different backgrounds might have different ways in which they seek to juggle their responsibilities.
Opinion: No one at the top gets to have it all
All of the advantages of diversity - ideas for start-ups born of different lived experience, new approaches to problem-solving and managing - can only be achieved if we loosen the grip of the belief that there is one best way to run a meeting or run a company. Similarly, the belief that there is a clear best qualified candidate for every job holds a grain of truth but also leaves room for bucketfuls of hidden biases.
I founded the Level Playing Field Institute, which recently studied the impact of hidden bias in tech workplaces, both large companies and start-ups.
What was striking was the degree to which engineers and managers in the same companies have day-to-day experiences that dramatically diverge. Even though they're often are on the same team or in the same department, some feel respected and encouraged, while others feel excluded and ignored.
These views aren't randomly distributed across the group of engineers and managers - they strongly diverge by race and gender.
A particularly striking finding was that while 60% of men in start-ups believe diverse teams are better at innovation and problem-solving, only 41% would be in favor of a companywide hiring practice to increase diversity.
Really?
If 60% believed, for example, that knowing how to code made for better hires, would only 41% be in favor of hiring people who know how to code?
In that same study, women and underrepresented people of color were far more likely to believe in the importance of diverse representation on teams and to support company hiring practices to achieve diversity than their white and male counterparts.
Underrepresented people of color were nearly twice as likely as whites to be in favor of a companywide practice to increase diversity (80% compared with 46%). Eighty-two of men in start-ups believed their companies currently spent the "right amount of time" addressing diversity.
Breaking the 'young white male' tech founder mold
Until our experiences of our shared workplaces converge, we will continue to confuse "style and fit" with merit.
Why does this matter?
Because it undermines fundamental fairness and robs individuals, companies and society of the benefit of everyone's talents.
Imagine a company whose innovation was focused on figuring out how to achieve bias-free hiring.
Or used to tackle the vexing problems of helping employees balance careers and children, or other life pursuits.
As long as we have one and only one model of success - indeed Mayer spoke of working 20 hours a day at Google and sleeping under her desk - and one view of what talent looks like (either a graduate or a dropout of a top-tier university), we'll all lose out.
America can't have a continued high standard of living without finding all available talent, nurturing it and providing opportunities for budding entrepreneurs, investors and employees from every corner.
The opinions expressed in this commentary are solely those of Freada Kapor Klein.