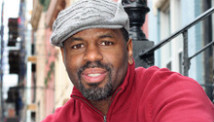 Editor's Note: Byron Hurt is a documentary filmmaker whose latest film, Soul Food Junkies, is scheduled to broadcast on PBS' Independent Lens in January 2013.
By Byron Hurt, Special to CNN
(CNN) – A friend of mine called me Thursday evening and asked, "Did you hear the news about Sylvia?"
Sylvia Woods, queen of soul food, dies at 86 
I knew right away which Sylvia my friend was referring to. Something must have happened to Ms. Sylvia Woods, the pioneering restaurateur whose soul food gave so many people comfort.
As I thought about the social and historical significance of Sylvia, what struck me is that my friend didn't refer to Sylvia as "Ms. Woods" or "Sylvia Woods."
Sylvia Woods – beyond the label, a legacy of dignity and inspiration
She simply said "Sylvia."  It was as if she were calling to inform me that a family member or a close personal friend had just passed.
Though Sylvia Woods was not a blood relative, she felt like one to me, and to anyone who frequented her world famous Harlem restaurant. It was a place where you were home. You could let your guard down, relax and dig in. FULL POST