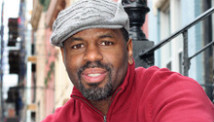 Editor's Note: Byron Hurt is a documentary filmmaker whose latest film, Soul Food Junkies, is scheduled to broadcast on PBS' Independent Lens in January 2013.
By Byron Hurt, Special to CNN
(CNN) – A friend of mine called me Thursday evening and asked, "Did you hear the news about Sylvia?"
Sylvia Woods, queen of soul food, dies at 86 
I knew right away which Sylvia my friend was referring to. Something must have happened to Ms. Sylvia Woods, the pioneering restaurateur whose soul food gave so many people comfort.
As I thought about the social and historical significance of Sylvia, what struck me is that my friend didn't refer to Sylvia as "Ms. Woods" or "Sylvia Woods."
Sylvia Woods – beyond the label, a legacy of dignity and inspiration
She simply said "Sylvia."  It was as if she were calling to inform me that a family member or a close personal friend had just passed.
Though Sylvia Woods was not a blood relative, she felt like one to me, and to anyone who frequented her world famous Harlem restaurant. It was a place where you were home. You could let your guard down, relax and dig in.
In her restaurant, framed pictures show Sylvia smiling next to wealthy entertainers, powerful politicians, important foreign dignitaries and famous athletes. The photos are a testament to her wide array of fans across racial and cultural lines.
At Sylvia's, I felt a sense of belonging - and racial pride - when eating at an established cultural institution famously built by a woman who had the vision and the courage to create her own empire by cooking smothered chicken, barbecue ribs, oxtails, potato salad, catfish fritters, black-eyed peas, collard greens and a host of soul food dishes.
Many African-Americans have grown up and grown old eating soul food. It has been an integral part of our journey here in America.
During the great migration from the South to the North, black people brought southern cooking to cities like Chicago, Washington and New York City.
By the late 1960s, black southern food was coined soul food and fed the hungry stomachs of black power and civil rights activists.
"Soul food, like soul music, is a repository for our history. It's this memory of comfort," said activist Michaela Angela Davis during an interview in my documentary Soul Food Junkies. "Soul food represents black. When you eat soul food, you get a little bit of us. There's this sense that this is ours, and we share it with the world."
Cultural ties to soul food extend back to West Africa. Enslaved Africans who survived the Middle Passage brought memories of the food and cooking styles that African-Americans still practice today.
The food that was planted, grown, raised, prepared and cooked by the hands of enslaved Africans in the South was food that, over time, became a fixture on southern plates during slavery and Reconstruction.
"Every cuisine has a soul food or a food that makes the people of that ethnic group's soul sing," said Jessica Harris, author and food historian. "But, at home, we didn't call it soul food. We just called it dinner."
Despite soul food being linked to disproportionately high rates of high blood sugar, hypertension, diabetes and heart disease in the African-American community, many blacks are reluctant to give it up because it has been part of their families' history for generations. Some African-Americans contend that what was good enough for their ancestors should be good enough for them.
Others acknowledge that while traditional soul food served black people well during the difficult era of slavery, today it is necessary to make modifications to recipes so that African-Americans can live longer, healthier lives.
Many blacks view this uniquely African-American cuisine as a source of honor, because it helped them survive difficult times and shaped black culture.
Soul food is a huge part of my own cultural identity and history. Growing up, for the 17-hour trips from New York to Georgia, our family packed brown paper bags filled with foil-wrapped fried chicken, homemade sandwiches and pieces of cake. Soul food was present at my churches' picnics, family reunions, Thanksgiving and Christmas dinners – even at the dinner following the funeral of a loved one.
So whenever I walked into Sylvia's restaurant in Harlem, over three decades of wonderful memories of eating food, prepared by loving hands, walked in with me.
It was like coming home.
The opinions expressed in this commentary are solely those of Byron Hurt.