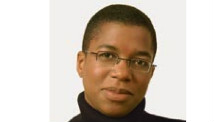 Editor's Note: Ainissa G. Ramirez, Ph.D., is the director of the award-winning science lecture series for children called Science Saturdays at Yale, and hosts a video series, "Material Marvels. "Technology Review named her one of the world's 100 Top Young Innovators for her contributions in transforming technology. Follow her on @blkgrilphd. This piece was written in association with The Op-Ed Project.
By Ainissa G. Ramirez, Special to CNN
(CNN) - Sally Ride was a fantastic physicist and astronaut, and later a science education reformer.
I was surprised to learn of her passing on Monday. I was even more surprised to learn that she was a lesbian.
Sally Ride, first American woman in space, dies
She left us with one last gift — she came out publicly.
In just one line, the obituary issued by her company shared her love with the world: "In addition to Tam O'Shaughnessy, her partner of 27 years, Sally is survived by her mother, Joyce; her sister, Bear; her niece, Caitlin, and nephew, Whitney; her staff of 40 at Sally Ride Science; and many friends and colleagues around the country."
With that, another dimension has been added to her remarkable life, inspiring those who are different, especially gay children.